When it comes to spending money on your restaurant's technology - like point-of-sale software, online and mobile ordering, and customer loyalty programs - how much should you budget for? Should you save money by choosing one of the so-called "free" systems out there, or does spending more really pay off? What are successful restaurants doing?
According to Hospitality Technology's 2016 Restaurant Technology Study, the average restaurant spends 2.5% of their revenue on technology and 2/3 expect to spend 1-5% more next year.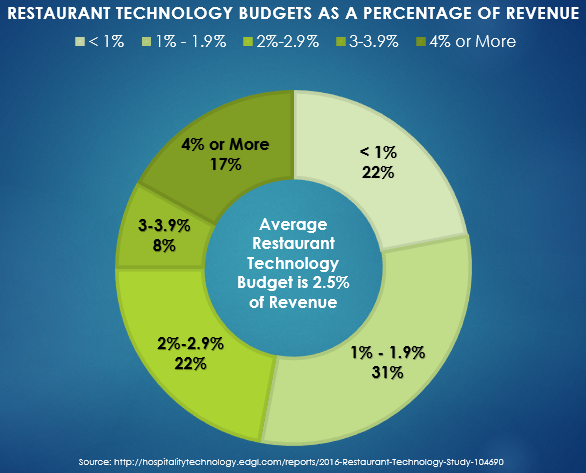 So let's examine your typical independent pizzeria doing $500,000 in sales per year. A 2.5% spend gives us $1041.66 monthly technology budget. Most restaurants spend 32% of that on software - with the remainder spent on hardware (27%), personnel (20%) and network/telecom (15%). That sets your goal of spending $333 per month on software to help your business. What's the return?
According to that same Hospitality Technology study, the top 3 goals that restaurant owners have driving technology projects are:
Improve operational / process efficiency

Improve customer engagement / loyalty

Increase employee productivity
Let's examine each of these to see how spending money on software that is designed specifically for your business - rather than an entry level "free" system - can pay off.
Improving Operational Efficiency
The right point-of-sale system can make all the difference in keeping your restaurant running smoothly. Here are just a few examples of operational efficiencies that can save you money:
Order Accuracy: Conversational ordering, requirements, modifier pricing, proper kitchen routing, detailed tax calculations - getting orders right every time in a complex restaurant environment adds more than pennies to your bottom line.
Preventing 1 $5 mistake a day = $150 monthly revenue
Order Taking Efficiency: If you do phone orders, using a system that is optimized for phone orders and delivery can greatly increase your efficiency, cutting down the typical order time from over 3 minutes to 30 seconds or less, due to features like callerID integration, last order recall, delivery area validation, address auto-completion, and more.
Recover 1 order daily that may have been lost on hold = $600 monthly revenue
Coupon Controls: Unlike most general restaurants, most pizzerias have complex coupon deals that general purpose point-of-sale systems just can't handle. Keeping strict controls over your coupons is essential to prevent discounting from running away with your profits. Make sure that all the coupons follow rules and restrictions with a POS system that really gets pizza.
Prevent 1 invalid $10 discount per day = $300 monthly revenue
Inventory Tracking: Comprehensive inventory management is a chore, but the right tools make it easier. Choose software that lets you track key ingredients so you know if you are overusing pepperoni, or if a block of cheese has walked out the door. Look for a system that knows the ins and outs of topping-based pizza inventory!
Reduce food cost by 1% = $416 monthly additional profit
Improving Customer Engagement
Higher Ticket Averages for Online Orders: It's no secret that online orders usually have 25% higher ticket averages than orders placed over the phone. Convenience, control, and powerful suggestive selling tools make customers more satisfied too! Having your own branded online and mobile ordering solutions is an easy investment decision.
Increase ticket average from $25 to $30 on 15% of your orders = $1250 monthly revenue
Gain 2 orders per day previously lost to competitor because you didn't have online ordering = $1500 monthly revenue
Turn New Customers into Regulars: We've all heard that finding new customers costs much more than bringing back regulars. But sadly, our average restaurant client finds that only 14% of new customers ever order a 2nd time. With the right automated marketing rewards program tailored to your restaurant, that number increases to over 30%.
With 10 new customers a day, that leads to 2nd visits from 45 per month = $1125 monthly revenue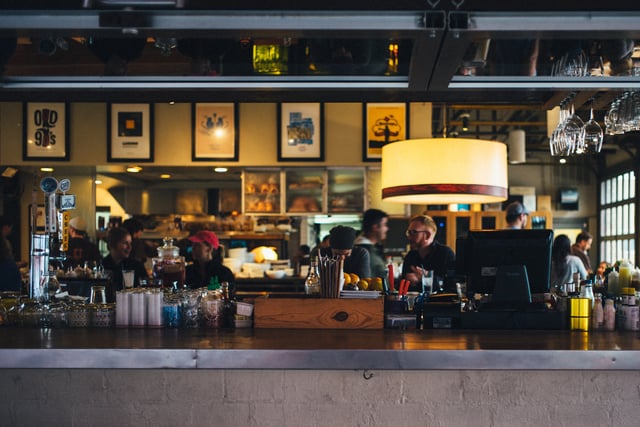 Increase Employee Productivity
Delivery Management: If you do delivery, you know that forgetting items or delivering late can lead to major customer satisfaction problems. Help your drivers present a professional image, work faster, and close out accurately every night with a point-of-sale system that's designed for delivery.
15 minutes per driver daily (3 driver average) saved at check out = $180 monthly profit
3 orders comped per week due to delivery mistakes = $300 monthly revenue
Time Clock Enforcement: Clocking in early, buddy punching, clocking out late - these small time clock frauds can really add up over time. Using the time clock & scheduling software that's built into your point-of-sale can control these issues, ensuring that employees only work when they are scheduled to. Look for advanced features, like biometric fingerprint scanners, to improve security.
4 employees, 15 minutes per day at $8 per hour = $240 monthly profit
Labor Cost Management
Managerial Efficiency: Simplify managerial tasks and paperwork with a point-of-sale system that helps to run your whole operation, not just take orders. From end-of-day closing to employee scheduling, your managers can spend more time with customers and less time in the office.
1 hour daily at $20 per hour = $600 monthly profit
If you're tempted to skimp on your restaurant's technology investment, think again! The right technology can help your operation innovate, gain more fans among today's digitally savvy customers, and save your team countless hours.