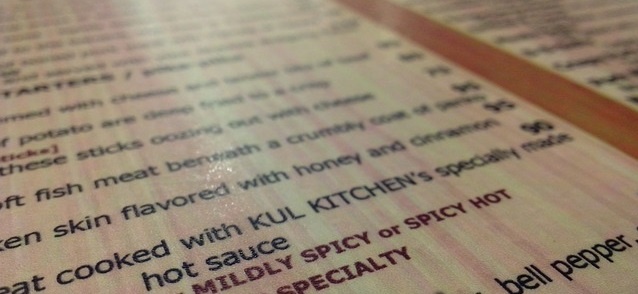 With Americans consuming about one-third of their calories away from home, the Food and Drug Administration (FDA) hopes their new menu labeling requirements will help combat the nation's obesity epidemic. The law, which will be enforced starting May 5, 2017, aims to help Americans make more informed, healthier choices when they eat out by requiring restaurants to list calorie count alongside menu items.
The menu labeling requirements only apply to chains with 20 or more locations, so independently owned operations and small chains are exempt. That's not to say that they shouldn't consider implementing some of these regulations in their own restaurants. (Jump down to number 3 to see why listing nutritional info can actually be a good thing.)
One of the most debated portions of the new rules was about the labeling of pizza, since it's so variable with all the topping options, slice sizes and quantities. The 395-page FDA document very specifically outlines what information pizzerias need to share and how it needs to be presented.
There are three things pizzerias need to know about the new menu labeling requirements and the impact they can have on your business: requirements for displaying information, having the right information, and the potential benefits of the law.
Placement is Important
The FDA cares about where you post the caloric content. Calorie counts need to be included on menus and menu boards, as well as takeout and online menus, with each individual menu item having its count listed next to it. Even font size is part of the new regulations! There's a lot of specific details to these new regulations, so you should definitely take extra steps to make sure you understand exactly what is required, even if you have to hire a consultant to help you.
Luckily, the law specifies that pizzerias must list calories by the slice and not by the entire pie, but the number of slices in the pizza has to also be listed. The FDA considered the highly customized nature of a pizza order, which can change depending on toppings and other modifiers, and decided that pizzerias can choose to list a calorie range instead of a single value. Seasonal or limited time items are exempt from the calorie listing rules completely.
Provide Access to Information

The FDA also says that you need to include specific statements and information to comply with the menu labeling requirements. Along with the caloric content next to each item, you also need to include these two statements:
2,000 calories a day is used for general nutrition advice, but calorie needs may vary.

Additional nutritional information available upon request.
The additional information you'll need to provide upon request needs to include the total calories, calories from fat, total fat, saturated fat, trans fat, cholesterol, sodium, total carbohydrates, dietary fiber, sugar, and protein.
It's going to take some effort to determine an accurate calorie count for each of your menu items, all the way down to individual toppings, but there are resources available. The U.S. Department of Agriculture website has calorie charts and calculators. There are also third-party calculators or software that can help. You could also consider hiring a lab to test and provide the nutritional information you — and your customers — need.
Highlight Your Healthy Picks

While compliance with these new FDA rules is mandatory, there are some serious benefits to listing nutritional information. Health-conscious customers and those with dietary restrictions often consider things like calorie counts before deciding on what or where to eat, which means it could be the difference between your restaurant and a shop down the street.
Highlighting healthy choices with a special icon or designated section on your menu can even help your restaurant appeal to your healthy eating customers. Showing off those options makes customers feel like you considered them in the process of creating your menu. Match this welcoming impression with friendly staff and you may have just turned them into a returning customer.
The deadline is approaching fast, so don't delay on making sure your restaurants are in line with these menu labeling requirements. Provide information to your customers so they can make informed decisions and good choices about their food intake while dining out.
Need information on how to add the calorie counts to your online menu? Check out these links: