Looking for a mobile line-busting or car-side order management solution? Combine a handheld Thrive tablet with the Ingenico Link 2500 EMV device.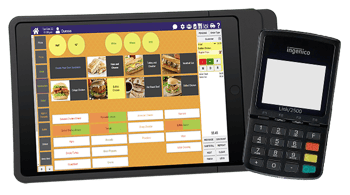 Adding a handheld table to your Thrive system gives you the flexibility to take orders from anywhere. With the WiFi-enabled Link 2500 EMV, you can accept payments, including contactless, Google Pay, and Apple Pay, from anywhere your WiFi connection will allow.
Contact us to learn more about these great add-ons to your Thrive POS Solution.
To learn more about adding EMV to your operation, please contact your Customer Success Manager at 817-750-3947.