Pizzeria marketing is complex – just as much science as it is art. There are lots of ideas floating around for how to market a pizza place so that it can compete with national chains and more recognized brands, but not all of these are effective. Here we take a closer look at seven pizza marketing ideas that genuinely work.
Stand out from your competitors
It is probably the case that you are not the only pizza option your potential customers have – so you need to make sure that you are doing something that makes them choose you over your competitors.
This needs to go beyond pricing or taste; instead you need to be thinking about the way you present your brand. This could be through eye-catching designs or even a funny social media profile. Just make sure that you stand out from your competitors in your marketing materials and social media profiles.
Brand your packaging
Too many pizzerias use generic packaging and boxes for their food. This is missing a very important opportunity to get your branding in your customers' faces. According to packaging specialists The Bag Broker "custom packaging created with your own branding are not only visually attractive for your customers; they will also advertise your brand to maximize marketing results".
When customers begin to recognize your brand, it does a lot for your repeat business. And there may be no better time for customers to associate with your brand than when they are hungry and your delicious pizza turns up at their door.
Share customer reviews whenever possible
You might be surprised to learn 76% of customers trust online reviews just as much as they do personal recommendations. Reading a review of your pizzeria online is just as good as a friend telling them how good it is. This makes reviews very valuable to your business – make sure that you regularly encourage customers to review your pizzas. It could even be worth incentivizing them to do so.
Ditch the stock photos
It is essential that you should use photographs of your real products, how they genuinely look when they arrive. Using stock photos of pizzas might be a good way to keep costs down and present an idealized version of the pizza customers are buying. But remember that modern customers know when a photo is real.
Stock photos won't win anyone over, and they can even give customers a false expectation about your products. When their pizza arrives looking totally different it can make them disappointed – the last reaction you want them to have.
Hire a photographer to take fantastic photos of your pizzas – they'll know how to capture your food looking fantastic.
Use loyalty marketing software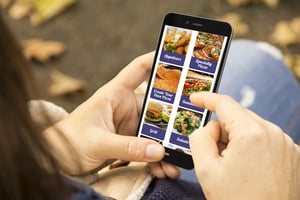 Speaking of repeat business – it is important to invest in a loyalty program. Loyalty marketing is cost-effective and highly successful; typically much cheaper than trying to attract new customers, it has the added bonus that repeat customers tend to actually spend more money on your products than new customers will.
It is important that your loyalty scheme is as simple as possible – both for your business and your customers. Utilize a loyalty scheme platform which automates emails and integrates with your point of sale system.
Utilize limited time offers
It is important to create a sense of urgency with your pizzas – and a great way to do this is to offer a product for a limited time only. This might be a specific base or topping; maybe with a seasonal focus. This can be then be offered to customers for a limited time only; if they want to buy then they need to do so right now.
Targeted social media ads
One of the massive advantages of targeted social media advertising is you can target a very specific section of the market. If you know that your major customer base is aged 18 to 30 – you can target only people that age and within your delivery area. This means that you only pay for adverts to those people who are genuinely likely to place an order.
Having a great product isn't always enough – you need to be doing everything you can to keep your pizza place in the memory of your customers. Try out these marketing techniques and see which are most effective for your business.