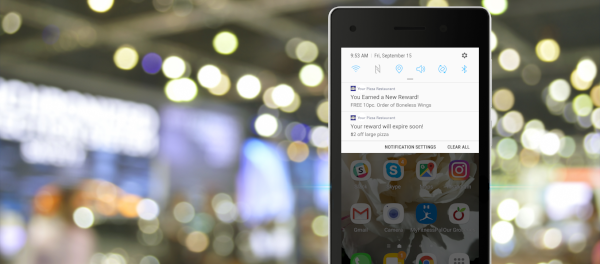 Any smart phone user understands the power of app notifications to keep users engaged, and this is no less true for your restaurant's customers. Whether it's a quick reminder about your 2-for-1 Tuesday special, or an invitation to try your new spicy wing flavor, a well-timed notification can help drive increased online ordering revenues.
READ: 3 Benefits of Having Your Own Restaurant Mobile App
Notifications by the Numbers
Research shows that app users who received ANY sort of notification in the first 90 days after downloading an app had a nearly 3x higher retention rate than those who received none, and that for retail apps in particular, moving from zero notifications to weekly or even daily notifications is significantly better than none for user retention.
Push notifications are the evolution of SMS marketing, so it's important to keep in mind some best practicies to maximize this tool as part of your restaurant marketing strategy:
Be Brief: Different phones can display different amounts of text on a notification, so to be safe, try to keep it 100 characters or less
Be Timely: On average, iOS users see a notification within 7 minutes, and Android users within 48, according to push notification analysis. That means your well-timed notification an hour before lunch will easily reach hungry customers in time to order for the office.
Be Relevant: While half of consumers may say push notifications can be an "annoying distraction", the other half "find them helpful" and "feel grateful" says a study. Include coupon codes and exclusive offers to keep your customers interested and engaged.
Be Careful: Don't go overboard with your newfound marketing power. Remember that 71% of app uninstalls are triggered by a push notification - which may be more likely to happen if you are communicating too often. For restaurants, once or twice a week at most is a good rule of thumb.
A personalized message that is relevant and timely to individual customers is one of the most powerful ways to improve your marketing. Consumers indicate that "A special offer based on my preferences" is one of their favorite types of notifications. That's why combining the powerful customer data of your mobile app tool with your loyalty rewards is so impactful for restaurant owners.
As you get started with mobile notifications, you'll want to review your results regularly and see what works well for your business. A solid mobile notification tool (like Thr!ve's) will let you know how many customers received the notification, how many clicked through to the app, how many ordered and what the total revenue was. Don't be afraid to try new things and test what works best for you, this will make sure you get an outstanding ROI.
You're Busy - and That's Okay.
You don't always have time to closely monitor your marketing strategy - so a tool that automates these steps is a game changer. Look for a solution like Thr!ve Loyalty, where you don't have to think about it. Customers will receive the offers you choose based on their individual behavior, spending and visits (or lack thereof), and they'll get notified not just via email that's easily lost in the inbox, but also with a can't miss mobile notification that leads them right to your online ordering app, where they can redeem their reward.
That's why we are excited to announce the latest enhancement to the Thr!ve mobile app - Marketing and Loyalty push notifications! Now, restaurant owners can send marketing notifications to their app users any time. With the integration of Thr!ve Loyalty and Thr!ve mobile, your reward messages can now reach customers with a push notification when a reward is issued and a reminder before it expires.
If you're a current Thr!ve Mobile user, you can read more about using notifications here, or click here to participate in our btea program. If you aren't using Thr!ve mobile yet, we'd love to introduce you to this powerful tool!