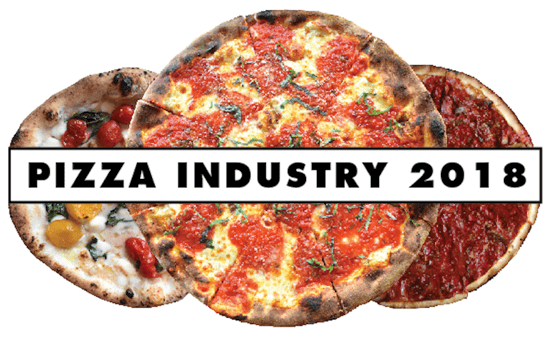 The new year is upon us and we're basking in a 2017 that was full of pizzeria innovation and growth. In 2017, United States pizzerias raked in $45 Billion, marking an overall increase. The catch? The number of independent US pizzerias actually declined – which highlights the increasingly competitive nature of the pizza industry.
We got our hands dirty going through PMQ's Pizza Power Report, a state-of-the-industry analysis reflecting on the lessons of this year and looking forward to 2018. Here are the top takeaways for 2018 pizza industry trends, and how independent pizzerias can up their competitive edge in the new year:
What Brought Success in 2017?
Digital Convenience
Successful pizzerias are embracing the digital trends across the industry with a strong and comprehensive web presence, including online and mobile ordering, social media, and delivery. According to PMQ's report, "The big winners in the pizza race this past year were those who embraced websites, social media, online ordering and delivery technology. Many of the fastest-growing pizzerias also had the highest web rankings, illustrating that there's a direct correlation between a strong web presence and healthy sales."
Citing Domino's as an example, the chain offers 10 different ways that a customer can order a pizza online, including from their app and tweeting a pizza emoji via Twitter.
However, the same insights indicated that a fantastic web presence isn't enough...if you're providing poor customer service or are priced too expensively, these can negate your digital efforts.
Delivery
A number of delivery technology trends like route optimization, delivery tracking, customer relationship management, and delivery analytics has made delivery possible for pizzerias big and small.
But how do customers really prefer to receive their pizza? Turns out, not from 3rd party apps. In the survey by AlixPartners, 71% said they prefer to get delivery directly from the restaurant. By managing delivery in-house, orders are usually more accurate and timely. The introduction of third-party delivery companies has been an asset for struggling pizzeria operators who have been dealing with rising wages and turnover rates. But many have realized there's no substitute for in-house delivery. When using third-party delivery partners, it's vital to understand how well your food travels—along with a slew of other considerations.
READ: 6 Ways a Driver Management App can Help Your Delivery Restaurant's Bottom Line
Loyalty
In the past, independent operators have dismissed loyalty programs as unnecessary expense and time wasters, but many are coming around to the fact that loyalty is one of the top factors helping the big chains grow by leaps and bounds.
Loyalty in 2017 goes beyond a punch card. With the help of POS systems, restaurants can track details like when a customer orders, what they order, and when they're likely to order again. All this customer data at your finger tips sets you up for some powerful target marketing opportunities.
WHAT ELSE IS ON THE MENU FOR 2018?
Mobile and delivery are not going anywhere anytime soon, along with a fresh pizza style.
Mobile Apps
All the technology that made the 2017 pizzascape great continues to meet demand for mobile-friendly strategies. Delivery? A driver management app helps you run your operation smoothly and efficiently. Loyalty and Online Ordering? Customers are more inclined to use a branded app on their smart phone when they're placing an order.
Talking mobile apps in 2018 isn't just for your customers, though. Utilizing mobile technology to help you manage your business better is also becoming a vital tool for restaurant owners and will continue to be a key driver for developing restaurant technology.
Fast Casual
Borrowing the concept from other fast casual joints like Chipotle, pizza has taken a pretty simple concept and has seen a boom with booming chains like Pie Five and Blaze Pizza. With the appeal of an affordable price point and your very own customized pizza - choose your crust, cheese and toppings in a build-your-own make line - these fast casual pizza concepts will continue to see some of the fastest growing chains into the new year.
Detroit-Style Pizza
Circular pizzas are so 2017. Detroit Style's unique square shape are baked in pans originally used to carry auto parts in the Motor City. The novelty of the fresh take on pan pizza and crispy, cheesy crust has been having a moment on menus across the country.
Looking for a pizza POS system that knows and loves pizza as much as you do? We can help with that!