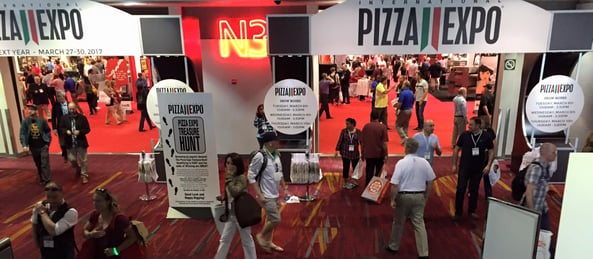 Whether you're a Pizza Expo veteran, or you're heading to Vegas for your first ever show, Pizza Expo is the premier resource for anyone and everyone in the pizza industry. From pizza dough to pizza technology, ovens to cannolis, the International Pizza Expo brings together over 1,100 vendors and tens of thousands of pizza industry folks.
(Pssstt...if you haven't registered to attend this year's show yet, you can get your $50 registration discount HERE!)
But with SO much pizza industry expertise crammed into just 3 days, you want to make sure you get the most out of your trip. Here are our top ways to get the best ROI from your Pizza Expo adventure:
Get your Learn On
Pizza Expo is more than just...well, an Expo. The event is full of educational seminars and even offers their own School of Pizzeria Management. The sessions are all listed online so you can see which ones are most relevant to you and plan your days accordingly. With topics like "90 Modern Era Pizzeria Promotional Tactics" and "Pizza Dough Boot Camp", sessions offer a variety of areas including marketing your restaurant, managing your pizzeria's operations, and choosing vendor partners. (And more awesome ones we don't have room to list here!)
Vendors
With an exhibition of over 1,100 vendors that encompass every aspect of a pizzeria...it can feel daunting walking down aisle after aisle of potential partners (the free cheese samples definitely help, though). Before you embark upon the exhibition, have an idea of what types of partnerships you're looking for and what your business's needs are. Needing a new oven? Need a technology partner to manage your delivery operation? Check out the exhibitor list ahead of time and do a little homework before the show. You can even look at a map of the show floor to lay out your plan of attack. And remember, a good vendor is a partner, and is truly invested in the success of your business...not just making a sale.
Have a Plan!
Now that you have a few sessions in mind and an idea of which vendors to keep an eye out for at the show...make a plan! Maybe you have an existing partner that will be at the show, it's a great opportunity to connect face-to-face. Look at what's going on each day and make yourself a schedule so you don't miss any opportunities. And don't forget to pencil in time for fun...you don't want to miss the World Pizza Games or the Craft Brew Pavillion. And did we mention the cheese samples?
ProTip; This year there's even a guided tour of the best pizzerias in Las Vegas on Tuesday night!
Discounts & Freebies
First of all, make sure you snag your $50 registration discount!
While you're at the show, there are many free samples to be had. From cheeses to cannolis, and even pineapple for the ever-controversial pineapple pizzas, Many vendors will also be offering some sort of show special, either in the form of a booth freebie or a discount for any business conducted during the show.
Other helpful tools to make sure your Pizza Expo experience is a great one:
Now you're ready to make the most out of your trip to 2017's Pizza Expo. We're keeping our pulse on everything going on, so Bb sure to subscribe to get the latest delivered directly to your inbox.
If you'd like to meet Thr!ve in person, or high five one of our Restaurant Technology Consultants...you can find us at booth #1313!