Not since the introduction of the touch screen has there been such a radical new option in the way we deliver restaurant technology. The introduction of the tablet - and its evolution into a worthy contender for your next point-of-sale system - gives restaurant owners an affordable and powerful new option. But should your restaurant jump to tablets?
Hardware vs. Software
It seems every week a new restaurant point-of-sale company pops up promoting their iPad based system. It's reminiscient of the early days of online ordering, when new companies flooded the market and were quickly weeded out. We were left with a few strong players and the many traditional restaurant technology companies who incorporated online ordering into their total solutions thrived. It's a similar situation with tablet-based point-of-sale. Creating point-of-sale software that really works for restaurants - and backing that system with appropriate service and support - is an arduous process. New software solutions ofen can't compete with established, feature-rich systems, and running on a tablet doesn't make up for a lack of critical features. But as the market settles out, we'll see a few who succeed and we'll see our feature-rich solutions evolve to run on tablet hardware - and real viable solutions will emerge.
The compelling case for tablets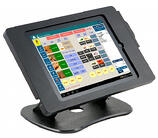 The advantages of tablets in the restaurant hardly need to be spelled out. Instead of large, expensive, clunky computer systems, a sleek tablet on the counter is appealing and affordable. The mobility of tablets opens great possibilities for use at the table, or as line busters, even for self-service ordering. Of course, before you jump on the tablet bandwagon, consider a few practical matters. Tablets must be secured, both physically from theft or damage and virtually, from gamers and viruses. Tablets typically require a wireless network, which adds more challenges to the typical restaurant owner trying to maintain a PCI-compliant environment. Be especially cognizant that not all tablet credit card processing solutions have been PA-DSS certified for PCI compliance, with card swipes that are easily hacked.
The Tablet and the Cloud
As tablets emerge as a viable hardware option, many of the software solutions that run on tablets rely on the "Cloud" for their operation - in that your data is not stored locally on any computer. While eventual reliance on the cloud for much of our computing is probably inevitable, you must consider whether the time is right for your restaurant. The appeal is the always-on nature of the cloud, freeing you from worry about back-ups, theft, or hardware failure. The cons are the fragility of your internet service, reliability of the many pieces in the cloud puzzle (significant outages in the last year have impacted many large players), long term viability of your software provider, and your willingness to pay monthly service fees forever to access your critical data; all factors to consider. Alternatively, a local server to store your data which is accessed by tablets in the restaurant is an option that keeps you in control - a baby step, perhaps, toward the next generation of technology.
As always with technology, changes are coming at us rapidly. Tablets could be a great fit for your restaurant now - or soon in the future. My restaurant clients are eagerly adopting them for a variety of purposes, including running their point-of-sale system in store, implementing self-serve ordering stations, and promoting loyalty program sign ups. Just remember - the tablet itself is only the hardware piece of the puzzle. Be sure to evaluate the software thoroughly, and consider the cloud vs. local decision as part of your total decision making process.
Interested in tablet-based point-of-sale for your restaurant? Granbury Solutions offers a powerful, fully-featured point-of-sale solution that works on iPads and Android-based tablets. It evolved from our mature FireFly POS product, so it's feature rich and can handle even complex pizza delivery operations as well as fast casual & quick serve restaurants. It's powered by a local server, so you aren't fully dependent on an internet connection, but it's highly connected with ou business-boosting tools like online & mobile ordering, business intelligence reporting, and customer loyalty. Affordable subscription packages make our Thr!ve POS system the right choice for any restaurant owner.