Is this the year? Is it finally time to throw away that old clunker that's been limping along in your restaurant all this time? Definitely! Here's why:
Restaurant POS is Better than Ever!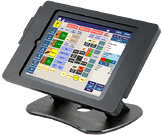 We've come a long way in the technology space over just the past few years. Tablets, first introduced to the consumer market less than 4 years ago, have rapidly become the must-have solution not just for consumers but for business applications as well. With your point-of-sale system running on a tablet, you've got a small, sleek image on your counter that is easy to use, dramatically less expensive than your traditional touch screen POS station, yet still incredibly powerful.
If your hardware is getting outdated, you can probably upgrade to a tablet-based system that is much less expensive than your previous POS purchase. And if a tablet breaks, it is much easier and cheaper to replace.
Your Point-of-Sale System Is More Important than Ever!
Sure, you've always relied on your point-of-sale system to help you keep order taking organized. But today's systems do so much more! From inventory to employee scheduling and even tracking the weather to help you analyze sales trends, your POS system should be a key tool to building your business.
Now more than ever, independent restaurants and chains are realizing that their technology plays a key role in connecting their brand to their customers. Online, mobile and self-serve ordering systems are critical not only in improving ticket averages and reducing costs, but also in improving customer satisfaction. Customer loyalty programs are delivering strong ROI to restaurants who see increased customer frequency and retention. Making these systems work seamlessly with in-store POS often requires a POS upgrade - with the benefit of easier operations.
Getting Consistent Across Your Chain
With online ordering becoming more and more important, chains of all sizes are realizing that a consistent POS strategy is critical. It's difficult to maintain menus and prices online for multiple locations if they are not centrally managed. Online gets out of sync with the store and chaos ensues. Sound familiar? For many chains, this means its time to look at implementing consistent technology chain-wide.
Security Has Never Been More Critical
Credit card security continues to be of utmost concern as high profile data breaches make the news regularly. Older POS systems may still store credit card data and expose restaurant owners to risk. Newer systems provide end-to-end encryption, cloud-based processing and tokenization, effectively eliminating all credit card data storage. What's more, Microsoft announced the end-of-life for Windows XP this spring. With no new security patches being issued, any POS stations that run Windows XP will be out-of-compliance for PCI purposes. It's critical to update these systems to a modern operating system before the deadline.
New Ways To Make Technology Affordable
It's never been easier to cost-justify the latest technology - and it's never been easier to pay for it! With creative subscription-based models available for both software & hardware, and affordable bundles linking POS to online ordering, customer loyalty and other business boosting tools, buying a POS system has become less of a massive cash outlay. Build in a monthly line item expense for technology and you'll always be able to stay up to date with the tools you need to build your business.
Granbury Solutions has the affordable, powerful technology you need to help your restaurant thrive in 2014! We specialize in business-boosting tools that work together - from Point-of-Sale to online, mobile & self serve ordering, business reporting, and innovative customer loyalty programs. We look forward to working with you this year!