With 8 million tourists passing by yearly on the way to Yosemite, GRS customer Jeff Goschen, owner of Yogurt Station, prefers to focus on building a community among locals in his town of Oakdale, CA. His approach may be unconventional but his results are remarkable!

It starts with the facility - not your ordinary strip-mall yogurt shop! Jeff has turned a 4 acre property and former car wash into a community center of sorts, complete with arcade, outdoor scooter/skateboard area, ping pong table, community car wash facilities, outdoor movie nights and more.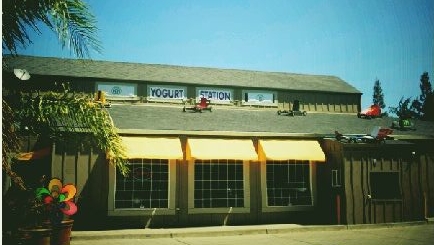 "We've found that we can really capture the hearts and minds of the community by becoming a central gathering point," explained Jeff. "So we bring people here for all sorts of events - from movie nights to live music to open mic night. We've got Girl Scouts selling cookies and we've washed more cars here for local organizations than this place ever did when it was actually a car wash!"

Of course, there's also big screen X-Box competitions and birthday parties, and the famous soap box derbies which are held for Father's Day. Inside, the local high school art class painted murals of community landmarks. (A great way to scope out potential new hires! Jeff observed their work ethic in action.) The arcade area, which has video games, foosball, air hockey and a life-size X-box projection screen, is separate from the dining area so the kids can play while parents relax, but has large windows as well as a video system so parents can check on their kids.

All this makes Yogurt Station a great destination for meetings with everyone from local political organizations and church groups to 4-H, Boy Scouts and Future Farmers of America meeting there. The adults love it because their kids can have a good time while they are meeting.

Customers may come for the community atmosphere and the 15 flavors of frozen yogurt, coffee drinks and even pizza, but they stay for the raffles! Every purchase gets a free raffle ticket, and every hour Jeff gives away a prize. "We have people who will come back and buy something else an hour later, just to get another raffle entry," said Jeff. For prizes, Jeff relies on creative and fun gifts and gadgets, highlighted with big balloons. "Giving away a real prize - rather than just a free food coupon - seems to really get people excited and lets us tailor the prizes for specific groups."
Jeff doesn't wait for the community to come to him, either. He is a regular at farmer's markets, movie night in the park, and other outside community events. "We've found that this type of outreach is better than just marketing - we actually can be quite profitable selling yogurt with our portable freezers and branded pop-up tents," Jeff explained.

To keep operations running smoothly, Jeff added a Vital Link point-of-sale system to his operation. "I used to work on computer system design for global companies," said Jeff, "So I can really appreciate everything that is in Vital Link and how it is structured to be flexible enough to work with any type of restuarant business. It really fufills the needs of an owner."

One thing Jeff really likes about the Vital Link system is how fast and efficient it is to process orders. "Because our yogurt is self-serve, and it melts, every second at the cash register counts! We can have a kid come up and weigh their yogurt, ring that in, then suspend their order and ring up someone else while we're waiting for the parents to finish getting their yogurt. It lets everyone move at their own pace while keeping our register process efficient," Jeff explained. "Also, Vital Link makes it really easy to process multiple payment types quickly. Our high school staff just flies on the system."

"The Vital Link POS system gives me insight into what ideas are effective, so I can be nimble in this economy," said Jeff.

Jeff has fully embraced technology by putting his marketing focus into social media. "We put a lot of efforts into our Facebook page, which is interactive and constantly changing, and we direct Yelp and other sites to our Facebook page to get more interaction" On Facebook, Jeff regularly promotes upcoming events, posts pictures, shares the latest flavors and responds to customer comments. His next project might be to target that tourist crowd after all. He plans to start using Google adwords for that.
Want to feature your restaurant on our website? Click Here to participate in our customer profile program!