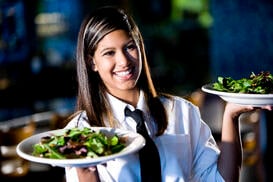 Want to help your restaurant win a favored place in the hearts and minds of your customers? Stand out from the rest of the impersonal and inefficient businesses out there by treating every customer like a VIP. "Crazy," you think? "My staff can barely remember their own name, let alone a customers!" you say? Use these Restaurant Software Power tools - most likely available in the restaurant point-of-sale system you already own - to help you give exceptional customer service without extraordinary effort.
Super Power #1: Speed
Customers hate to wait! They like to be able to order quickly and receive their food quickly. If you are taking phone orders, use caller ID and your point-of-sale database to speed up the ordering process. Use a street database to be able to quickly and accurately enter addresses and keep within your delivery area. Keep existing customer addresses on file to speed up the order entry process. Give customers alternatives to phone ordering - such as online ordering - so they don't have to wait on hold. If you've ever got a line in the restaurant, consider offering a mobile ordering app so your regular customers can order ahead and skip the line. Use signs to point out a special "Mobile / Online order pick up" area to make your customers feel special.
Super Power #2: Personalize
Customers love to personalize, customize and make things their own. In fact, a recent poll showed that 86% of consumers prefer to choose their own toppings for their pizza. Encourage personalization, substitutions, fractional pizzas - all the things that help your customers get what they really want. Then rely on your technology tools - such as "previous order recall" in your point-of-sale or "saved previous orders" online to make it easy to reorder that special creation. If a customer regularly orders gluten-free, vegan, or asks for double cut pizzas, make a note in your customer records to alert staff in the future to ask about these requests, so they don't get forgotten. Making it personal and remembering their preferences will keep your customers connected to your business.
Super Power #3: Reliability
Give customers the confidence that they can rely on you to be accurate, timely and delicious. Many customers like to order ahead - whether its a week in advance for a large party or just an a hour ahead of dinner. Most point-of-sale and online ordering systems give you tools to manage these orders effectively, so you can confidently deliver at the right time. If your system can automate an e-mailed order confirmation, it helps to ensure order accuracy and gives customers the confidence that their order is in process. Keeping customers informed of their order status, such as alerting them when the driver leaves with the order, also will reassure them that you are treating them right.
Super Power #4: Surprise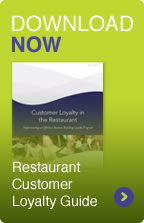 Everyone loves a surprise to brighten their day! Restaurants are adding loyalty programs to reward their best customers because they really work. Not only do these programs help you to stay connected with customers through e-mail and social media, they make your loyal customers feel appreciated. But they don't have to be complicated. Some of the most successful loyalty programs rely more on "surprise and delight" rewards rather than strict point formulas. So even if you don't have a formal loyalty program in place, think about ways to surprise your best customers once in a while. Your point-of-sale system probably has many ways to identify your biggest spenders or most frequent patrons. Apply a free appetizer to their record, or send out a free dessert with their next order. Engage your Facebook fans with a secret special. Have a free cookie day - just because. And think beyond the pizza box - t-shirts, hats, pins, frisbees and other "exclusives" can make your best customers feel like real insiders while promoting your brand.
Super Power #5: Be Real
Will your service always be perfect? Probably not. Your customers will understand. Take every opportunity to be proactive when things go wrong. Check your daily reports of late deliveries, and send a thank you coupon to those customers who may have experienced a slip in service. Give customers the opportunity to provide feedback, through surveys or even just a comment form on your website, and respond to that feedback. Use the marketing tools in your POS system to welcome new customers and explain your story and what makes your restaurant special. Start building real relationships, and your customers will thank you for it!