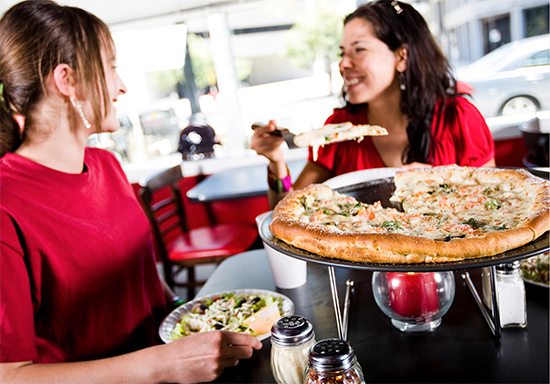 Are your customers loyal to your restaurant? How do you define customer loyalty? Do you want to get customers to come back more often? What type of customer is most likely to return again and again?
Technomic recently completed a study of consumer perceptions across 128 major restaurant brands. One finding, for instance, is what drives loyalty among different demographic groups. "Millennials are looking for restaurants that not only satisfy their hunger, but that they can feel good about," says Darren Tristano, executive vice president at Technomic. "Older consumers, on the other hand, place a higher priority on atmosphere and service."
This got me thinking - how can you, our restaurant-owing client, get the same insights into your customer base? With the right loyalty building tools in place, you can ask them! Many of our clients are taking advantage of the ability to "get to know" your consumer by using our customer loyalty system, SalesBuilder, as more than just a rewards machine.
For example, when a consumer signs up to receive communications from your restaurant and get rewarded for their purchases, you have a great opportunity to ask them some information about themselves. You can add questions to your sign up form, or ask customers to fill out more information later, or even send out a survey periodically. But what should you ask?
Try to select information that will help you connect with this customer better in the future, and help you learn more about your business. For example:
Age range
Family size / # of kids
Special food needs - vegatarian, gluten free, vegan
Business or catering needs
Beyond these basics, the questions you ask might be tailored to your business.
What sports do you like to watch on TV (if you have a sports bar)
Do you (or did you) attend one of these local colleges (if you are in a college town)
What type of music do you like (if you host live music)
Ask some questions that help you understand your customer's behavior:
How many nights a week do you eat out or get food delivered?
How many days a week do you eat lunch out?
How many times a month do you order pizza?
When choosing where to order from, what is most important: Quality of food? Atmosphere? Speed? Price / Value? A restaurant that gives to the community?
What do you like best about our restaurant? Quality? Value? Convenience? Speed of service? Friendly staff?
Wouldn't it be fascinating to know this much about your customers? Just think what you could do with this information. You may find you have a set of customers that eats lunch out daily and values speed most of all, but are only eating with you twice per month. You'll know that the way to bring them in more often is to promote your "VIP Express line" for loyal customers, or to invite them to order online before leaving their desk for speedy pickup -- and you probably don't need to give them a coupon to incent them.
Maybe you'll find another group of customers are alums of the nearby college, have a family of 4 or more, are price/value sensitive, and order pizza weekly. Target this group with a college-themed message with a great deal on delivery.
By getting to know what is important to your customers - and what they like about your restaurant - you can make a more personal connection, one that will help your customer feel great about returning again and again.
To learn more about how GRS SalesBuilder can help you build an effective loyalty program in your restaurant, please sign up for a free demo!