EMV transactions are a whole lot faster with the newest EMV device available and certified for Thrive POS and WorldPay processing.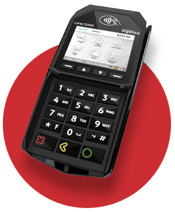 T
he Ingenico Lane 3000 is compact, robust and secure. It supports EMV and swiped transactions as well as NFC / Contactless transactions including Google Pay or Apple Pay.

This device is compatible with Thrive on the WorldPay TriPos Express platform. It supports the "Quick chip" technology which allows the customer to begin the transaction before the total is sent to the device, and it supports Contactless EMV.
To learn more about adding EMV to your operation, please contact your Customer Success Manager at 817-750-3947.