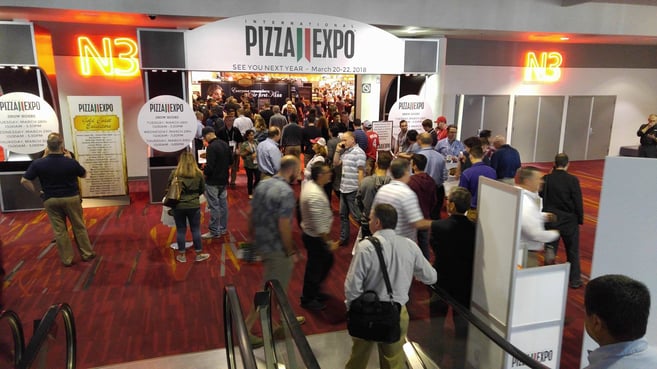 The 2017 International Pizza Expo has come and gone and, along with the resonating excitement from the World Pizza Games and full bellies from all the delicious samples, attendees are thinking over all the advice and information given at the booths and seminars. Between conversations heard on the floor and discussions with industry professionals, a few topics seemed to be more popular than all the rest. From the food that gets served to customers to the technology you use to take those orders in the first place, restaurant owners and managers were looking for ways to boost their business in 2017.
Marketing to the Millennial
With each passing year, more and more restaurants are asking the same question: What do millennials want? Recent studies have shown that almost 80 percent of millennials would prefer delivery over dine-in if given the option, and the discussions that took place at Pizza Expo definitely reflected that. From seminars specifically on bringing in the millennial audience and best practices for social media marketing to the increase in app vendors and digital marketing specialists on the show floor, it was clear there was a constantly-growing focus on attracting the 18-34 year old crowd.
Third Party Apps
Delivery and mobile were huge topics at the 2016 Pizza Expo. This year, they were upgraded to more specific examples. Third party apps like GrubHub and Eat24 dominated delivery discussions. Many attendees were wondering if paying the fees these apps charge for delivery service was ultimately worth it, especially for independent restaurants and small chains. The answer? It really depends. According to Estella Ferrara, VP of Marketing for Oggi's Pizza & Brewing Co., in-house delivery systems are the ideal solution. However, if your current restaurant technology doesn't allow for you to set up your own online ordering, third party apps can be a helpful way to pull in new customers until you can put your own system in place.
Expanding Menus
Customers are looking for so much more than just the simple cheese and pepperoni options these days. Pizza My Heart's Kitchen Director Tom Silva said that especially people looking for vegetarian options are bored with just mushrooms thrown on a pizza. One of the best ways to attract new customers is by providing something that they can't get anywhere else. For pizzerias, that could mean exclusive menu items. Whether you pump-up your menu with twists on classics (replace that boring ol' mozzarella with a freshly-grated four cheese blend) or create entirely new combinations (think nuts, greens, and new veggie choices), this year's expo was filled with new ways to freshen up your restaurant's menu.
Full Technology Solutions
Independent and small-chain pizzerias are starting to really get into all the technology available to them. From delivery to loyalty programs to online ordering, all these digital parts of businesses can get overwhelming fast, especially when a business uses multiple different companies to help them handle each different section. Experts at the Pizza Expo agreed that there is a simple solution to help owners simplify their pizzeria's tech footprint: integrated systems. "As a small business, you want to find a system that can check the most boxes," said Allan Eskelin, a business technology consultant for Peak Portfolio.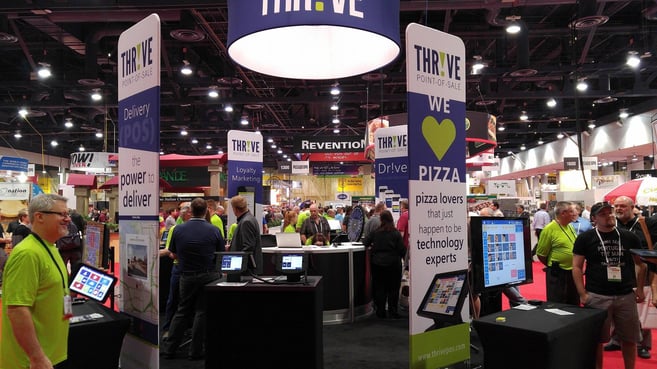 The real news this year, though, was the debut of the Thr!ve booth. Featuring all-new visuals and hands-on demos, this year's booth focused on all the possible ways individual and small-chain pizzerias could benefit with Thr!ve. Couldn't make it to Pizza Expo this year? Request and demo and see how the power of Thr!ve could boost your business.