Let's be honest for a moment. Painfully honest. Sometimes, despite your best efforts, a customer's experience is going to be less than stellar. In some cases, you won't even know about it because they may not say a word, choosing instead to simply buy their next meal elsewhere.
And while they may not tell you, according to Lee Resources International, a globally known business strategy leader, on average, a single unhappy customer will tell as many as sixteen other people about their unpleasant experience. Happy customers, on the other hand, tell about nine people.
Be Grateful You Know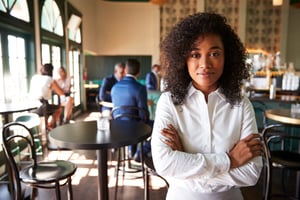 When you are wading through daily restaurant management issues or are on the line preparing food as fast as you can, the last thing you probably want to hear is a complaint. Regardless of how or when they come up, complaints are not likely to create a "yippee!" moment of unbridled joy for anyone.
Maybe it should, though, because if a customer is unhappy at your independent restaurant, and they take the time to share that information with you, they are doing you a massive favor. The same research group mentioned above also noted that for every unhappy customer that complains, there are likely to be another 26 that do not speak up. Simply by sharing their complaint, a single customer is handing you an opportunity to fine-tune your guest's experience.
Be Willing to Learn from Failure
Mistakes happen. The trick is to learn from them, so they do not happen again. If you get nothing else from this blog, know that simply being willing to work to create a better customer experience goes a long way towards winning the hearts of your customers. It also has a positive effect on your team members too. Instead of playing the blame game, come alongside your people to figure out ways to solve problems. It not only creates happier customers, it builds a better team, which lowers staff turnover rates.
Listen Up!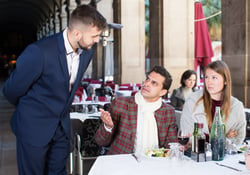 When a customer is upset, they naturally want to be heard. If you put yourself in their shoes and demonstrate that you are listening, really listening, they often begin to calm down. As a rule of thumb, the less respected or empowered someone feels the louder they are likely to be. Conversely, the more valued and validated a customer feels, the more likely they are to remain a customer.
Take Ownership and Fix It
That does not mean you have to give away the store, or that unreasonable customers are to be given everything they demand. It does, however, mean that you should seek to understand their feelings and respond accordingly. Even if you cannot give a full refund or the customer is making unreasonable demands, you can still empathize and seek a reasonable solution.
For example, if you are dealing with an irate customer, ask for details. Asking questions and repeating things back shows that you care about your guest. Ask for clarification when necessary.
Empower Your People as Much as Possible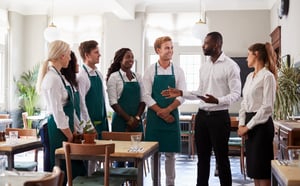 Incidentally, your staff should be empowered to take care of small issues such as replacing a spilled drink or adding a small desert item free of charge when it is appropriate. By doing this, you create a culture that supports customer interactions.
The Takeaway
Look at customer complaints as a resource to help you fine-tune your restaurant
Check your ego and try to see it from the customer's point of view
Don't make excuses or point fingers
Seek to make it right or at the very least, meet the customer halfway
Give them a chance to come back, such as a discount or free dessert on their next visit
You may not get a second chance to make a first impression, but you can create a culture which builds customer loyalty and success. At Thrive, we understand the everyday challenges that independent restaurants face. That's why we offer leading edge solutions such as delivery restaurant point-of-sale technology that gives you a bigger slice of the pie.
Call 800-750-3947 or click here for more information.