Contacting people we've fallen out of touch with, shopping around for the best price, researching specific questions at a few clicks of a button – it's hard to argue that the rise of the internet has been anything but a positive.
However, that may not necessarily be true when it comes to certain sectors and industries. While having an increased number of options is obviously great from a consumer's point of view, when it comes to digital advertising and marketing, it only makes the landscape much more competitive.
In the world of catering specifically, standing out from the crowd is imperative so, while word of mouth may remain the most effective marketing tool, having a digital presence is now arguably as – if not more – important.
Just look at the stats; independent restaurants declined in the U.S. by 2% in 2018. Whether this is because the marketplace has become increasingly saturated, or because the quality of output has reduced in order to cut costs, owning a restaurant has become that much more difficult.
Nevertheless, the one thing that stands out now more than ever is having a brilliant digital marketing strategy. Here are the four key things we think you should have in yours.
1. Get Ranked
Having a website is absolutely vital for restaurants to survive in business. After all, how will anyone be able to find out about you if there isn't one available?
Just think about it from your customer's point of view. What are they likely to do when searching for a place to eat nearby? They're going to head to the web and, most likely, use Google to search for various options. In order to ensure you're seen by the masses; you need to appear in those search results.
If you're not particularly tech-savvy yourself, don't worry – there are a number of SEO marketing websites out there able to utilize Google's search algorithm and help your restaurant appear first in search results. While it may not be cheap to buy up-front, if it helps more customers come through the door then it's probably an investment worth making.
2. Request Reviews
While on the theme of making sure your website stands out, having positive reviews available and on show is imperative. After all, you want to demonstrate to your customers just how great your restaurant is, so how else are they going to find that out?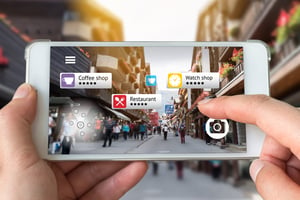 By asking for honest reviews from consumers, you will not only be able to easily identify any areas you need to improve in, but you'll also be able to enhance your online reputation and bring in fresh customers.
Keep an eye on the main restaurant reviews sites, like Yelp, Trip Adviser, and OpenTable and try to keep as open a dialogue with your customers as possible.
3. Think Social
If your restaurant isn't already on social media, then get it on there. Websites like Instagram, Facebook, Twitter and YouTube are incredibly valuable tools to have, providing you with a platform to engage with your customers.
Whether you hire someone to use it as a full-time job in-house, or outsource it to somebody else, don't make the mistake of underappreciating its power. The most important thing to remember when implementing social media into your digital marketing strategy is to actually use it. There's no point only posting the odd photo or status update every few weeks – social media needs to be regularly used to be effective.
4. Promote Discounts

Everyone loves a discount, right? So why not think about offering them to your target audience.
The discounts you offer need to be clever and thought out in such a way that you'll earn more money, rather than less. You could, for example, offer a 10% discount for new customers or give a free bottle of house wine to customers who return within a set time.
Email marketing can also be incredibly effective at ensuring your restaurant stays in the mind of the consumer. By building up a customer database, you can email out any upcoming promotions, menus or events you are holding.
There's the tried-and-tested flyer method you can use as well. If you're looking to attract local customers to your restaurant, why not offer them a cut-out discount by posting a bespoke printed flyer through their door?
Final thoughts…
Having an effective digital marketing strategy in place is absolutely vital. By utilizing the points listed above, you will not only help ensure that your restaurant stands out amongst the rest, you should also increase your potential customer base as well.
However, the most important thing to remember is to stay true to your brand. Remind yourself why you set up the restaurant in the first place and always prioritize offering a great level of service. Don't change yourself just to suit the trend – when you force something unnatural, things have a tendency to go wrong.
Focus on yourself, utilize our tips and – moving forward – you and your restaurant should thrive.