Reposted from the official blog of Buckaroos Slices and Scoops , published September 29, 2019.
The story of Buckaroos Slices and Scoops would not be complete without the inclusion of this very special episode, and it is part of the saga we kept quiet until this post.
It was the biggest surprise in this particular journey, and when times were tough, it affirmed for us that we must press on, that God had a plan for this whether we fully understood it or not at the time.
In March of this year, we attended the International Pizza Expo in Las Vegas. We knew we wanted to serve pizza and ice cream, but we knew little else. It is hard not to laugh now because we have come so far, but with kids like ours and their challenges, we knew it was imperative for the concept to move beyond the theoretical into the practical, and there is nothing better than the hands on approach for those with Fetal Alcohol Spectrum Disorder, so off we went! We had a list of things we knew we needed to begin researching...pizza ingredients, equipment, various business models, and a Point of Sale Cash Register System/Online Ordering System.
Spending two days wandering the exhibitor floor, the size of which was the equivalent of eight football fields, it was hard not to feel overwhelmed. The sights, sounds and smells caused all of us to experience a fair amount of sensory overload! Then there were the sales reps from many companies who were well trained in how to gently push interested parties, and how to create a sense of urgency which would push buyers to make choices they might regret later, once away from the energetic environment.
Aisle by aisle we traipsed through the arena, sampling, practicing saying "No, thank you" and gathering information for products we might ultimately be interested in. Later on the first day, the kids took a break to attend educational seminars, and my best friend, Candi, and I began to approach some of the POS system vendors. We knew this was going to be the biggest purchase outside of our pizza oven, and we also realized it was likely to be the most complicated item to consider. The restaurant concept was intended to be handled as much by our three very young adults as possible, but with their disabilities, we knew they needed a computer-based system that would be as simple to operate as possible, because none of the kids are very adept at technology. We also knew that if we were planning on living into the mission of our business and hiring others who also had cognitive disabilities or developmental delay, the selection of just the right POS system would make all the difference between success and failure.
As we approached a couple of vendors and tentatively explored their systems, we instantly felt more like we had walked onto a used car lot. Slick salesmen with memorized pitches stalked us the moment we stepped into their booth, and they talked over us the entire time, never really listening to what our needs were as they were so intent on showing us all the bells and whistles their systems had. After a few moments at each, we escaped as politely and quickly as we could, and were discouraged as we realized this might end up being the most difficult purchase we would have to make, and maybe NOTHING was going to work well for us.
Looking at our map, we headed toward yet another booth with Point of Sale Systems, steeling ourselves for what we assumed would be a repeat of the other unpleasant experiences. The company's system was named Thrive POS from Granbury Solutions, and I groaned inwardly as their salesman zeroed in on us. He introduced himself to us as Eddie LeBon, and within moments it was clear this would be a more comfortable encounter. Eddie asked questions...and he was attentive to our responses. Where others talked and "sold", he listened and offered suggestions. When we explained what we were hoping to accomplish with Buckaroos Slices and Scoops, and that we were in need of a POS system that could be simplified as much as possible, he didn't disregard us and try to show us all the advanced properties of the system. Instead, Eddie explained how it could be customized in many ways to offer a "cleaner" screen and that the data input was efficient and intuitive. We grabbed his business card and a brochure, and with our guard now down a bit we told him we would return with the kids a little later to have them take a look.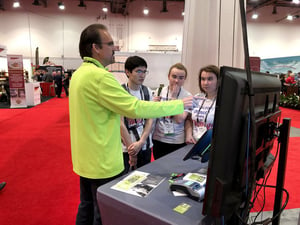 About an hour later we arrived back at the Thrive POS booth, and we waited for Eddie to finish with another customer. Can I tell you he won me over from the moment I saw the great respect with which Eddie treated the kids? He took them seriously, he walked them through what the system had to offer slowly, step by step, and spoke directly to them as the business owners. He had been prepped ahead of time about the kids' disabilities, and he spoke to their concerns about the complications of any POS system, gave them a brief hands-on tour of the program, and turned them loose to test it out. Most importantly, he didn't talk down to them, and they felt empowered as they looked at something so costly but necessary.
Returning to the show the next day, we all hit every single other POS system company to compare their products to Thrive's system. Let's just say the experience was less than desirable, and the dismissive attitudes with which the kids were treated was in stark contrast to how Eddie had dealt with them. It was obvious they were being viewed as a waste of time, as sales people were eager to push them aside to deal with what they felt were "real " prospects. Visiting the Thrive booth once again, we found Eddie and had decided to put a sizeable down payment on their system. It was a perfect fit! Kenny, who is our most tech challenged, had been able to walk right up to the screen and punch in an order with virtually no instruction, so we knew by that alone that we had a winning system with Thrive. This was a BIG purchase, thousands of dollars being committed to, and we all felt the weight of the decision as we left Vegas, but we also were certain it was exactly what we needed and more user friendly than all the other systems we had tried. We experienced no buyers remorse, but we knew we were now truly beginning to accrue real debt.
One morning about a week later, as we were gathered around the kitchen table working on our homeschool work, (which was really our business and marketing plans) my cell phone rang. It was someone from Thrive asking if I had a few minutes to chat. Assuming they needed more detailed information to get started on our system, I excused myself from the table and went into my office to talk. I was then informed that I was on a conference call with several others in the room, which confused me as that felt a bit like overkill if they needed some of our basic beginning information, but hey, ok, I am fine with that! Haha!
What happened next made me weak in the knees. They were calling to tell us that Eddie had shared our story with them, and they had all been touched by what we were hoping to accomplish. They said they wanted to support us in our mission, and had made the astounding decision to give us the entire system, the terminals and printers we needed, the service we needed for installation, the online ordering, and a year's follow-up support at no cost.
For FREE. Totally FREE. As in, "We are going to return your down payment as well."
Then I was told, "We believe in you, and we think what you are doing is important."
I am never speechless; ask Dominick and the kids. I know I must have sounded like a complete fool as I sat there dumbfounded, then stumbled to find the words to say how grateful we were and what an enormous surprise this was. I was almost in tears, this was SO huge for us!
And you know what? It wasn't only the cash value, though that was certainly a huge unexpected blessing. What mattered most was that someone was taking us seriously, that this wasn't just a pipe dream of ours, and others wanted to invest in us despite the fact they didn't have a clue who we were. In that single moment, we moved from "what if?' to "Oh, we are SO going to make this happen!" in a far more tangible way.
With them still on the phone, I went out to the kitchen to share with the kids what Thrive was going to do for us, and their hooting and hollering had to be heard all the way to Texas (where Thrive is based) even without the phone!! Hanging up, I turned to the kids and said, "Whatever doubts we have had, God wants something to happen here and this is our big 2 x 4 so we need to really pay attention. With this gift comes a ton of responsibility for us to live into our mission." They all agreed, and were as stunned as I was in the moment. We were all silent for a few minutes, shaking our heads, digesting what had just happened.
Then, we dug in and got to work.
As the months rolled by, as contractor delay upon contractor delay was experienced, as the inevitable road blocks rose up that happen with any major project, when we began to wonder if we were somehow "reading the signal" wrong and doubting whether we were really supposed to do this, all one of us had to do was bring up Thrive's generosity, and we all felt affirmed and were able to shake off the concerns. And man, did we have them over and over again! It was literally all we had to hang on to at times when things went awry, and credit card debt was mounting.
A couple months later, Thrive sent us their new #Pizzahead shirts, and we wore them proudly (Josh, in particular, wore his #Pizzahead shirt a LOT!) as we continued the challenging work of creating our special little place.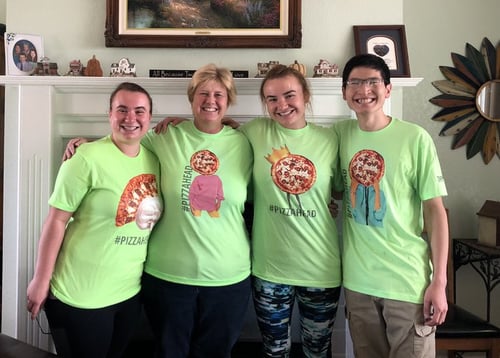 This past week, Thrive sent their installer, Mike, to Montrose at no cost to us to install the system, and to spend three days training all of us. We were super excited when the boxes arrived a few days before.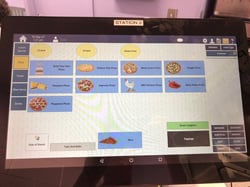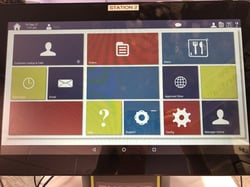 Mike...wow, was he patient! How he put up with our family for three days, I have no idea! Haha! Our menu had been programmed in prior to his arrival, and Matt and I had done some initial "back end" training with their distance trainer, Becca, who was equally patient and her experience in years past working with people who have disabilities surely helped as she customized our menu and embedded images, color coded items, etc. to make it as user friendly as possible. Here is what a couple of our screens look like:
It was precisely what we needed, but dared not hope for! Simple, clean, functional...and we were off and running with the training!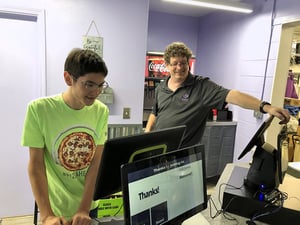 Sometimes, you just need someone to believe in you. Boy, does our family understand that one! Thrive gave us a gift that kept us going. When everything felt hard, when we felt like this was maybe too much to take on, Thrive's belief in us made all the difference.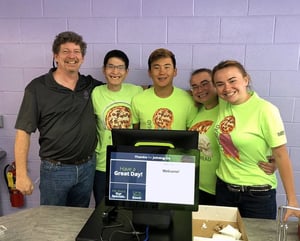 And now, as we have just completed the hiring process, we are passing that belief on to others. As of yesterday, our staff will include SIXTEEN employees, almost all part-time, ten of whom have special challenges (including our three.) As others have believed in us, so too shall we believe in others. We will be working with a DYNAMITE crew of young people who all have a heart for service, are kind, respectful, and most importantly, need a chance to...well...thrive. It has been a delight, and frankly a profoundly moving experience, to sit with people whose needs are rarely understood, who are seldom seen beyond their label, and who are moved to tears (and so are their moms!) when they hear they are hired.
"Can I take pictures of where I am going to work to show my friends?"
"All I want to do is make my mom and dad proud of me."
"I get a NAME TAG?" and then excited clapping follows :-)
Then there were the broad grins that slowly spread as each of them realized they were being hired. All because someone believes in them, and doesn't expect them to be anything other than exactly who they are. They will be understood, they will not be yelled at, they will not be made to feel stupid.
And maybe, if we do this well, we can offer the same gift that keeps them going, too.
Thank you, Thrive, for believing in us. We promise you we will do whatever it takes to build on your faith in this mission of ours in this tiny little space.