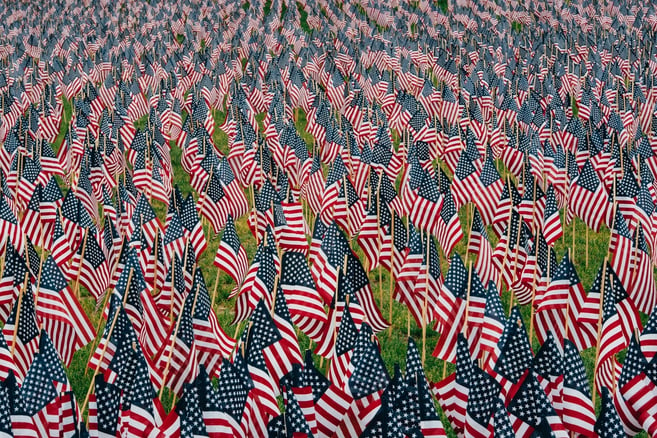 Memorial Day weekend has become a staple in consumer's shopping calendars, using the abundance of sales to stock up on everything they could need for the upcoming summer months. While a majority of sales are offered both in-store and online, lots of people choose to hit the shops at least once during the weekend to check out those extra-special, in-person-only deals.
Retail holidays are huge opportunities for restaurants as well. The potential for bringing in both new and returning customers grows tenfold when shopping is at the front of consumers' minds. Here's three quick and easy ways to grab people's attention this Memorial Day weekend.
Give Something Back
Memorial Day is a time to remember fallen military members and their service to the country. Restaurants can donate a certain amount of each order to organizations like the DAV Charitable Services Trust, K9 for Warriors, or a local charity. According to a 2015 Cone Communications/Echo Global CSR (Corporate Social Responsibility) Study, 88 percent of consumer said they would be more loyal to a company who supports social and environmental issues. Giving back to a charity or community organization encourages customers to come to your restaurant instead of a competitor's, and they'll feel good about spending their money as well.
Don't want to donate with every purchase? That's fine. Try offering a weekend-only special and donate 50 cents or a dollar for each purchase of that special only. You can also use the weekend as a chance to experiment with new recipes, offering to donate more of the proceeds for each purchase of your new item.
Use Your Loyalty Program
If you already have a loyalty program, use it to your advantage. Give members a special coupon or deal, just for them. Make it exclusive to Memorial Day weekend so members have a definite time period. Giving customers options on what they can redeem with the deal will encourage more people to take you up on the offer. Try offering a certain amount off any order, or let them choose between two options, like a drink or a side.
Don't forget to let loyalty members know about the promo before hand. Give at least a few days' heads up, posting information to your restaurant's social media accounts or sending out an email. You should also decide if the offer is open to all loyalty members, even those who sign up on-the-spot, or can only be redeemed by those who are already members.
Don't Forget the Military
Memorial Day is about fallen service members, after all. Many restaurants already offer military discounts on a regular basis, but veteran and military-centered holidays are opportunities for your restaurant to express your gratitude even more. If you feel comfortable, try offering a free entree to service members. All they have to do is show their military ID.
You don't have to offer up all of your menu items as options if you aren't comfortable doing that. You can offer one specific menu item as the free entree. If you're going to do this, be sure to offer something that's a popular item, like pepperoni pizza or a classic cheeseburger. Even if it's not what they want, they'll still appreciate the gesture, helping with your brand reputation and, hopefully, customer loyalty.