In 2020, COVID-19 left an unmistakable mark on the independent and small chain restaurant community.
Many consumers have abandoned brick and mortar retail shops and restaurants in favor of eCommerce and online ordering and delivery. With so many consumers surfing the internet, online reviews have become just as important as family and friends' recommendations. Why should you pay attention to those online reviews? Because five-star reviews can boost your sales and build your customer base. Here are just a few reasons why online reviews are so critical today.
Credibility – Building trust in your business usually can take a significant amount of time and effort to develop. But positive online reviews can help speed up that process. According to the Better Business Bureau, 92% of consumers read reviews to determine the quality of a business, and 88% say they read up to ten reviews before they decide to trust a company.

Expanded Reach – With newspaper readership at an all-time low and radio and TV advertising costs prohibitive, positive online customer reviews can reach more potential customers with no financial expenditure on your part. The number of review sites is also impressive – Google, Yelp, Amazon, Facebook, TripAdvisor, Yellowpages, Manta, and of course, the Better Business Bureau are just a few of the popular sites people turn to for customer reviews.

Decision Making – Positive reviews certainly make consumers trust a business more, and the BBB found that consumers trust online reviews as much as personal recommendations. Research shows that consumers trust peer recommendations more than they trust advertising.

Boost Sales – Positive online reviews can drive more customers to your business and increase sales. They will also help boost your visibility on the internet through search engine results. Search engines like Google take into account the number of times your business name appears online. If that is many times, you're likely to appear higher in search results.

Start a Conversation – Online review sites give you the chance to develop a closer relationship with your customers. While there are many benefits to online customer reviews, remember it does take some effort on your part. Solicit positive feedback from your customers by encouraging them to review your business online. Be vigilant in monitoring the sites for criticism and take the opportunity to resolve any issues so you can demonstrate that you're interested in what your customers have to say.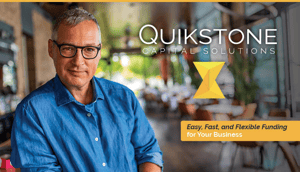 Quikstone Capital Solutions has provided business owners with working capital to grow their companies
for more than 15 years. If you need cash to cover new technology, unexpected costs, or if you want to make some long- overdue improvements, funding from Quikstone could be right for you. There is no more convenient option with the ability to quickly qualify and get your money in 2-5 business days.

Would you like more information on how to grow your business with Quikstone Capital Solutions & Thrive Pizza Point-of-Sale?