As any good comedian will tell you, delivery is everything.
And when it comes to food delivery apps and services, the same rules apply. More and more customers are regularly using online ordering platforms to get restaurant food delivered to their home or office. And it is not just traditionally delivered items such as pizza or Chinese food either.
Customers not only want delivery - they want options. According to a survey by Cowen and Co., online delivery orders of all kinds have risen 380% in the last three years alone. Moreover, Andrew Charles, CFA, restaurant analyst for Cowen and Co., predicts that food delivery sales, which now represents roughly $43 billion, or 8% of all restaurant sales, will increase by 12%, or $76 billion, by the year 2022. Will you be ready?
Who Uses Food Delivery Apps the Most?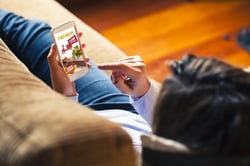 Per a report by Acosta, a national sales and marketing pulse-taker, 51% of all U.S. diners and 77% of Millennials regularly order delivery food. On average, Gen X diners spend 32% of their income on food made outside of the home. Millennials, on the other hand, are even more likely to buy eats they don't prepare, spending an average of $513 per month on restaurant chow of all types, including high-end and gourmet fare.
Customers are not only placing more online orders, they are also more likely to jump from platform to platform, and less likely to remain loyal to a brand without robust loyalty building incentives.
How Do Third Party Delivery Apps Affect Pizzerias?
As America's appetite for delivery food items grows, an army of third-party delivery services such as GrubHub, DoorDash, UberEATS and others, are capitalizing on this growing demand. In many cases, restaurants are now partnering directly with third-party delivery services to expand their service areas.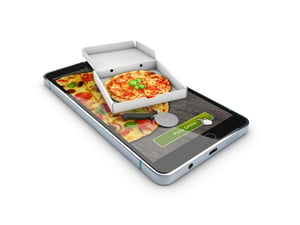 It should be noted though, that while this kind of relationship does tend to increase sales, there is no guarantee it actually increases profits for the pizza restaurant. In fact, it may mean the exact opposite because even though food delivery services do generate more business, their fees and commissions can easily chew into profit margins.
It can also be harder for pizza restaurants to find delivery drivers because they are now having to compete with third party delivery services, which don't require drivers to commit to a traditional work schedule. Some well-positioned restaurant chains and larger independent pizza restaurants have responded by trying to create a more lucrative opportunity for delivery drivers by adding their own fleet of company cars. After all, it is a lot easier to hire drivers than to find people who own a vehicle and are willing to deliver.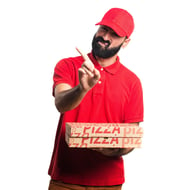 Delivering Your Brand (Or Not)
Food delivery services can also cause unwanted headaches by providing less-than-stellar service at the expense of your brand. If a pie arrives cold or soggy, the customer is more likely to blame your restaurant than the third party delivery service driver (who chose to deliver your competitor's order first). The irate customer may leave a scathing review, or just never order from your restaurant again. Either way, you stand to lose.
Overcoming the Digital Dining Dilemma with a Superior POS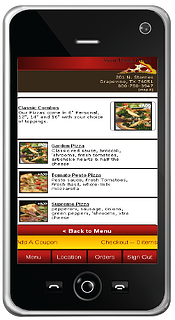 Even if you do choose to partner with a third-party delivery service to expand your delivery area, you still want to remain in control of as much of the process as possible. This includes how the order is processed.
It makes sense to spend your marketing time and money driving customers to your restaurant online ordering platform, where you can track and control the purchase from start to finish. All of which means that your restaurant POS system has to be integrated, agile, mobile, and smart.
Rather than allowing others to steal a slice of your pizzeria profits, a versatile POS system can help you create your very own online ordering and delivery system.
A robust POS system like Thrive provides powerful tools to do more than sell pizzas. It captures critical data, enabling you to target trends, offer meaningful promotions, and tempt customers with enticing offers based on their unique preferences and ordering history.
POS Software to the Rescue
The big takeaway (see what we did there) is that digital ordering is here to stay, and if you want your pizzeria or delivery restaurant to truly Thrive, you need to grab every advantage you can in today's online ordering landscape.
From dough to doorstep, we are with you every step of the way. Learn more about how a superior POS system can put you ahead of the game.