New Zealand's 65-store Hell Pizza chain isn't afraid to be shocking, to be reviled, or to be picketed & protested. What they are afraid of is losing their sense of fun. Director Warren "Otis" Powell shared their secrets at the GRS Customer Conference. Warning - this isn't your Grandmother's pizza chain!
Lesson #1: Know Who Your Customers Are - And Who They Aren't.
Hell Pizza proudly holds 7 out of the top 10 most complained-about advertisements in New Zealand's history. Like this one, promoting Lamb Shanks:
Or this one, comparing their pizza to Domino's:
They regularly get hate mail from as far away as Iowa for their over-the-top advertising (tho not so much about their pizza!). Instead of toning down the message, they publish the worst of the complaints in the Hell "Blackmail" book and give it to customers to read while they are waiting. For Hell Pizza is clearly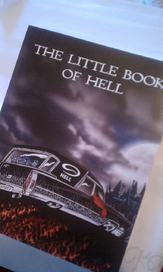 NOT trying to appeal to everyone. They've identified their target customer and learned how to gain fierce loyalty, "to Hell" with everyone else.
Lesson #2: Don't Cheapen the Product
One advertising technique Hell doesn't believe in is competing on price. While the big chains try to out-do each other with cheaper and more coupons, Hell proves that value-added extras keep their customers coming back. For example, the magic Hell coloring book for kids (flip through it once for uncolored illustrations, flip again and they are colored, flip a 3rd time and the pages are blank) may cost a few bucks to produce but gets a big Wow! factor. The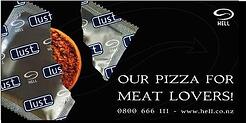 branded "Hell Pizza" condoms distributed free with their "Lust" pizza (for meat lovers) also caused a sensation of another sort. Even the pizza boxes keep the customer in mind - by punching out and folding down into a small coffin "For Your Remains" (no better advertising than leftovers in this stand-out box in the office refrigerator!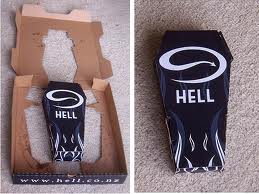 Lesson #3: Stand For Something - Fun!
Hell Pizza keeps in mind their core brand message of FUN and promises to deliver on that to their customers. Their antics are cheeky and unexpected, but they take product quality and service seriously.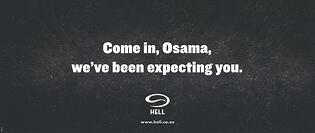 They aren't afraid to speak boldly about religion, politics, and political correctness. And then, they
attack you wit
h zombies
.