Online ordering is clearly a benefit to restaurant owners. Increased ticket averages, order frequency and customer satisfaction are all attributable to allowing your customers to order online. But when it comes to how best to set up online ordering, restaurant owners are unclear. Should they list their restaurant on a portal site (such as Seamless or Grubhub), potentially gaining exposure to thousands of new customers but competing with hundreds of other restaurants for their share of stomach? Should they hire their own webmaster to incorporate online ordering functionality into their own site? Or should they work with an online-restaurant ordering specialist to embed the ordering functions? Here's some of the pros and cons of each method.
The Portal Sites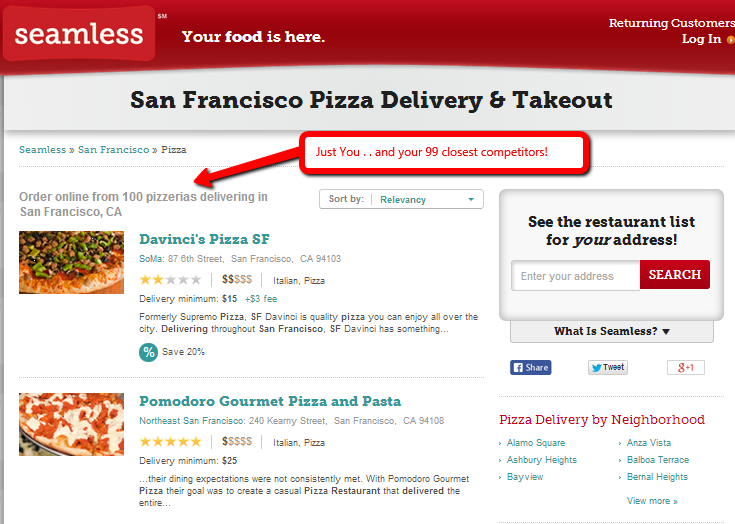 Portal Sites specialize in advertising directly to consumers and listing as many restaurants as possible on their site. The advantage to the restaurant owner is that these sites can give you exposure to new customers, who may not otherwise have found you. If your restaurant is in a touristy area or somewhere with a high population turnover, these sites can be a good way to meet new customers. The disadvantages are that your restaurant is one of perhaps hundreds listed offering similar food in your area. If you send your existing customers there to order, you may be exposing them to competitors and encouraging "deal shopping". Also, these sites tend to be expensive, taking 10-15% of the order --which can take a real bite out of your bottom line as you grow your online business. Beware of how quickly you get paid for orders you fulfill - some sites take up to a month to reimburse your account! Operationally, these sites are tricky to manage. Orders are unlikely to flow directly into your point-of-sale system, making reporting & control onerous. And menus are unlikely to update automatically when you make changes in your restaurant.
Building It Yourself
On the other extreme, some restaurants try to develop their own, proprietary site. While this gives you a great deal of control over the customer experience, the cost and complexity of developing and maintaining an e-commerce site, including possible integration with your point-of-sale system, makes this a daunting challenge for all but the biggest brands. Web developers may tell you that it is easy to add e-commerce to your site, as 3rd party shopping carts are simple to plug in. But these tools are generally designed for retail commerce. They can't handle the complexities of delivery charges, deferred orders, modifiers on your sandwich, combo coupons, and the like. In addition, any site you develop needs to be PCI-certified to ensure the security of customer credit card transactions.
The Right Choice: Work With An Expert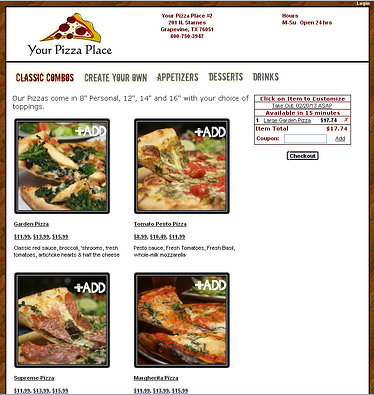 The middle road, which most smart operators choose, is to work with a specialist who has a configurable restaurant online ordering solution. Find one that integrates with your point-of-sale system already - as most POS systems have recommended or in-house solutions. This will ensure that menu items & prices flow easily into the online site, and orders flow directly into the point-of-sale, giving you good control and reporting. Your point-of-sale system should then be able to tell you important metrics, such as the % of your orders & revenue that is coming from online, and how your ticket average compares online vs. in store. A tight integration also makes it easier to manage credit card payments -- giving you the power to modify orders & add a coupon or tip from the point-of-sale system.
Using a specialist doesn't mean the restaurant has to sacrifice customization or branding. Your site can still be formatted to match your website and can be embedded directly within your site, so that the consumer never has to leave your URL to order. Attractive pictures of your food, sophisticated suggestive selling engines, and built in loyalty reward programs all help online restaurant ordering sites deliver a great customer experience and bottom line results.
Granbury Solutions helps restaurant owners succeed with our innovative business building solutions, such as online & mobile ordering, point-of-sale, and customer loyalty. Learn More about our online ordering solutions!