Third-party delivery services are becoming a new force in the restaurant industry. Pizza delivery has always been popular, but with the rapid growth of third-party services, a variety of restaurants have been adding these additional delivery options to help boost their brand awareness.
Third-party delivery services can make a big impact on your business in certain areas. These impacts should be considered before you decide whether or not to add your restaurant to their lineup.
New Customers
Offering restaurant food delivery through a service like GrubHub, UberEats, or Postmates exposes your brand to potential new customers. Using their ordering infrastructure and delivery fleet, these services give even the smallest restaurants the ability to offer delivery.
Quality Control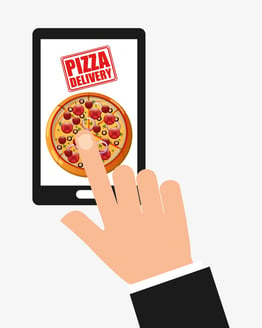 Although using third-party services means additional orders, it could also mean additional complaints as well. In-house delivery staff can be closely monitored to ensure that delivery times stay low, orders arrive in good condition, and, when they don't, replacements can be sent immediately with an apology. In comparison, some third-party drivers work for more than one service, so if an order is guaranteed in an hour, it could mean your customers are waiting a full 60 minutes. When an order arrives wrong, spilled, or cold and soggy, the restaurant is the one that bears the brunt of the customer's anger, eats the cost of the replacement (plus the delivery fee) and risks a bad review.
Management/Scheduling
An in-house pizza delivery operation requires staff to be on-site, even if it's a slow shift and the employee is just sitting around. A third-party delivery driver is only paid if they are called for a pickup, which can help keep payroll costs down. It also helps alleviate some of the backup during busier shifts, so orders don't sit on the counter for prolonged periods of time, waiting to be picked up.
Customer Experience
Unfortunately, bad customer feedback due to a third-party delivery service is beyond your control. It only takes a few bad reviews to make people wary of your restaurant, so be careful. A Technomic study found that when ordering through a third-party website, 76% of people surveyed held the restaurant partially responsible for any mistakes. If you do employ a third-party service, make sure only authorized drivers are picking up deliveries.
Customer Lists and Costs
Although third-party service companies accept orders online, they don't provide the customer information they collect in the process to the restaurant, so you don't have access to this for future marketing campaigns. In addition, these services can be expensive — most charge a sign-up fee, monthly fee, additional fees for extra locations and commission for every order, including repeat guests. Combined, some of these fees can add up to 30% or more.
Restaurant owners should evaluate the pros and cons of employing third-party online ordering and delivery services before signing up. While they can help increase brand awareness and reach a wider market, they can also be expensive and risky when it comes to customer service and satisfaction. Weigh your choices carefully and evaluate whether a third-party delivery service is truly worth it for your restaurant.