We are living through some turbulent economic times. Most of us have probably noticed that prices of many things from food to fuel have increased, with some sharper increases since the start of 2022. While the disruption of supply chains has caused some of the increases, the climbing price of energy means the cost of food, products, and services will also increase.
Experts predict that the combination of high gas prices and rising inflation could mean an impending recession.
The good news is that as a business owner, there are steps you can take to recession-proof your business. When should you start to implement this plan? The correct answer is now.
Businesses can survive and even thrive in a recession if they take these proactive steps well before an economic downturn.
Review your business plan.



Business owners with a formal business plan are far more likely to achieve success. While you should allow for flexibility, you need a rock-solid plan

to stay profitable. Contingencies should be built into your plan in the event of a disaster, whether it be an economic downturn or a natural disaster.

Carefully monitor your cash flow and take control of your finances.

Companies that successfully navigate a financial downturn focus on preserving cash flow.

Review all your business expenses and create a cash flow statement to keep track of your finances. While experts say you can't cut your way out of a recession, you should put all your spending under a microscope during this time. Review incoming invoices carefully. Look at staffing. Can some full-time employees work reduced hours? Involve your staff in the process. I

f you want to survive a recession, you need to strengthen cash flow to provide the essential services your company needs for success.

Don't cut back on marketing.

The cost of advertising can drop during a recession, and the lower rates create a "buyer's market" for brands. When you cut back on your ad spending, your brand loses its "top of mind" status with consumers, with the potential of losing current – and possibly future – sales. Don't forget, if your competition cuts back on advertising, you'll be able to make inroads into their customer base, and you'll have a clear shot at attracting new customers.
Invest in your business.

During times of economic stress, your instinct as a business owner may be to withdraw and tighten the purse strings to protect yourself. But one of the most effective solutions for businesses to survive, recover and prepare for the future is to continue investing in technology. Consider all the restaurants that invested in online ordering, contactless payment, and delivery services during the pandemic. When you invest strategically

in the right technology and service offerings, you are more likely to come out ahead when the economy bounces back.

Secure funding

before

you need it.

Don't wait until you are in a cash crunch. Securing capital from traditional lenders is not fast or easy in the best of times. Quikstone has helped thousands of merchants navigate difficult times with flexible business funding for more than sixteen years. Quikstone has an A+ rating from the Better Business Bureau, and 80% of our merchants are repeat customers. We value the trust our merchants' place in us. Quikstone offers a no-cost or obligation pre-qualification, so why not get the process started

? We have only one goal – to help your business succeed.
As a restaurant owner, you know the value that a state-of-the-art POS system can bring to your business. Get the right technology in place today to prepare for tomorrow.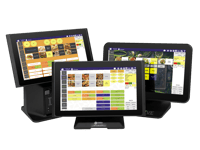 Thrive Pizza Point-of-Sale offers a robust system built to help pizza and delivery restaurants grow. With
online ordering
,
mobile app
, unlimited terminals,
loyalty
, managed menu service, third-party integrations, and more — Thrive Pizza Point-of-Sale gives you everything you need for success.
Contact a Thrive representative today to get started by calling 800-750-3947 or clicking below:
Need funding assistance to upgrade your POS?
If you need funding for most any business need, Thrive Pizza POS and Quikstone Capital can help. It's easy, fast, and flexible. If you accept credit cards it's easy to apply with a simple, one-page application. Get a no-cost, no-obligation pre-qualification today!
Disclaimer: Granbury Solutions and Quikstone Capital Solutions do not provide legal, tax or accounting advice; the information provided is intended to be general in nature; and readers are strongly encouraged to consult their own professional tax, accounting and legal advisors on individual tax matters. Information contained in this message should not be construed as financial or tax advice, a promise of potential savings, or reduced tax liability. Individual financial and tax situations may vary. Federal rules and tax guidelines are subject to change. For more information about your specific business financial situation, you should always consult professional tax, accounting and legal advisors for guidance, and visit the Internal Revenue website at www.irs.gov for more information.