Thrive Pizza Point-of-Sale has added some new hardware options for the New Year!
Check out our newest workstation options:
The Thrive POS Silk tablet is a cost-effective 15.6" Android tablet. Highly recommended for front counters, driver stations and server stations.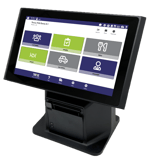 If you prefer a more compact footprint that includes a printer in the base, the Android Acrobat by TouchDynamic is a great choice.
*Also available without built-in printer base.
For high performance in a busy restaurant, we recommend the i3 Acrobat by Touch Dynamic. Upgrading from tablet to computer gives a boost in performance, and the Linux operating system keeps it affordable.
*Also available with built-in printer base.

All workstations can be used in conjunction with our Customer-Facing Display, an 8" Android tablet that shows customers their order and captures signature, email and tip. (Requires Wi-Fi kit)

Optional accessories include your choice of MSR or EMV device, including the Ingenico Lane 3000, our new standard offering for 2021.
Ready for something new?
Shop all this and more at ThriveHardware.com, or call your Customer Success Manager at 817-750-3947 today!