When you've been in business for more than 45 years, you know a thing or two about the pizza business. A local staple open since 1969, Original PJ's Pizza in New Martinsville, West Virginia offers up pizzas, subs and salads to hungry customers with the best lunch specials in town. Already a Thr!ve point of sale user, they recently decided to add online ordering to their operation and the results were...instant.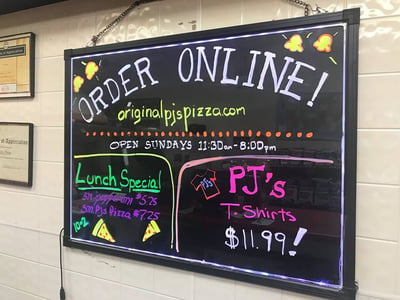 "On our first day of launching the online ordering, we received our biggest single order yet; the total on the order was more than $1,000", says Erika Donaghy. "Initially I thought that it might have been a user error in entering the order or possibly even a prank. I called the customer and confirmed that it was in fact a legitimate order. She mentioned that she was in town for a conference and had decided to order food for a large group. She ordered through us because we were one of the few stores in our area that had online ordering on our site."
In an industry where local independent pizzerias struggle to compete against the "big guys", technology tools like online ordering allow restaurant owners to not only stay competitive, but also grow their business. Adding online ordering allows customers to find you when they're hungry, adding a level of convenience that makes your menu more accessible. The key to a successful platform? Integration. In the case of Original PJ's, "Thrive allows us to seamlessly integrate our online orders directly to our in-store POS and to our kitchen make-line".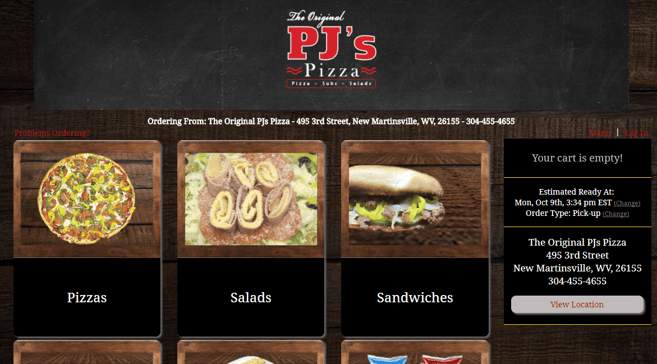 This is a component that many third party online ordering vendors overlook, resulting in a more frustrating experience for both you and your hungry customers. Erika's experience makes her "very glad to realize that our store's online ordering is providing a great interface for our customers and reaching other customer targets that were previously outside of our base".
READ: 8 Pizzeria Online Ordering Mistakes Hurting Your Business
While your first order may not boast 4 figures, adding integrated online ordering does deliver higher ticket averages, improved order accuracy, more frequent return customers, and savings on 3rd party per-order costs. Next time you're in West Virginia, check out Original PJ's pizza (we weren't kidding about the really great lunch specials).
By the way, we can totally help with your online ordering woes.