The health of your business depends on a budget.
Starting a successful business depends on many things — creating a solid business plan, identifying your target customer base, developing your marketing strategy, and, most importantly, establishing a business budget. Because your budget will play a key role in making sound financial decisions for your business, it should be one of the first tasks you tackle.
What is a business budget?
A business budget is a detailed plan that outlines your finances' current state (including income and expenses) and your long-term financial goals. A well-developed business budget will help you track all your business expenses, plan for the future, economize when you need to, plan for growth, and make a profit.
Experts agree that the best business budgets are flexible and straightforward. Should circumstances change, you must be able to adjust your budget to make sound financial decisions to meet the challenges that will come your way. Think of your budget as a road map that keeps you on course to success.
A business budget can help your business by:
Making it more efficient.

Predicting slow months and keeping you out of debt.

Estimating what it will take to become profitable.

Providing a window into the future.

Determining leftover funds that you can reinvest.

Helping you keep control of the business.
Creating a business budget will make operating your business easier. A business budget can also help to make sure that you're spending money in the right places and at the right time to stay out of debt.
How to create a business budget
You don't have to be a CPA or have an MBA, and you don't have to do it all yourself. But whether you hire an expert or do it yourself, you need to know your numbers. There are many tools and templates you can use to build your budget.
The essential components of a business budget include income, fixed expenses, variable expenses, discretionary expenses, and personal financial goals. We found a simple, six-step guide to creating your business budget.
Examine your revenue

Subtract fixed costs

Determine your variable expenses

Set aside a fund for unexpected costs

Create a profit and loss statement

Outline a forward-looking business budget
As a business owner, the work of creating your budget will ultimately make your life easier.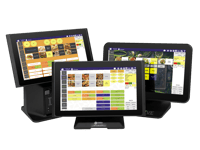 Thrive Pizza Point-of-Sale offers a multitude of sophisticated forecasting and reporting tools that will help you establish and maintain your restaurant budget. Beyond that, Thrive Pizza Point-of-Sale offers a robust system built to help pizza and delivery restaurants grow. With online ordering, mobile app, unlimited terminals, loyalty, managed menu service, third-party integrations, and more — Thrive Pizza Point-of-Sale gives you everything you need for success.
Contact a Thrive representative today to get started by calling 800-750-3947 or clicking below:
Need funding assistance to upgrade your POS?
If you need funding for most any business need, Thrive Pizza POS and Quikstone Capital can help. It's easy, fast, and flexible. If you accept credit cards it's easy to apply with a simple, one-page application. Get a no-cost, no-obligation pre-qualification today!
Disclaimer: Granbury Solutions and Quikstone Capital Solutions do not provide legal, tax or accounting advice; the information provided is intended to be general in nature; and readers are strongly encouraged to consult their own professional tax, accounting and legal advisors on individual tax matters. Information contained in this message should not be construed as financial or tax advice, a promise of potential savings, or reduced tax liability. Individual financial and tax situations may vary. Federal rules and tax guidelines are subject to change. For more information about your specific business financial situation, you should always consult professional tax, accounting and legal advisors for guidance, and visit the Internal Revenue website at www.irs.gov for more information.