How much is a single loyal customer worth to your pizza shop? If you guessed in the hundreds or low thousands, you may want to rethink your customer loyalty strategy. According to a recent Forbes study the average lifetime value of one customer is $25,000 with repeat cusomers accounting for 70% of sales in most casual dining restaurants. So how can a customer loyalty program benefit your business?
Why Customer Loyalty?
From large chains like Panera Bread to local businesses like Chicago-based Waldo Cooney's Pizza, more and more restaurant operators are turning to loyalty programs to attract repeat customers. And it's little wonder that these restaurants are finding success, as a AC Neilsen recently published a study stating that 60% of consumers consider loyalty programs an important factor in their buying decisions.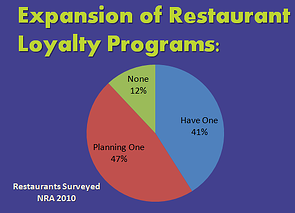 Increasing frequency of vists is just one aspect of why customer loyalty matters for today's restaurants. On Average, consumers spend 46% more with companies that have loyalty programs and 65% say they would recommend a restaurant more to friends and family if it offered an appealing reward program.
With the ability to connect with your customers and indentify individual habits, you'll learn more about what customers want and gain the opportunity to send regular reminders that communicate what sets your brand apart. This makes it easier to turn new customers into regulars who visit more frequently and order more when they purchase.
An often unexpected benefit of a loyalty program is the control it provides for operators. Loyalty programs enable restaurants to reduce indiscirminate or blanket discounts that hurt can take a bite out of your bottom line. With a loyalty program you gain the ability to quickly drive business on slow days with an easy, cost-effective tool for marketing to customers.
Real Examples of Loyalty ROI
Granbury Solutions has thousands of restaurant clients of all types - and we offer a loyalty program which is fully integrated with our POS systems. Customers can easily sign up with just their mobile # or e-mail at the POS, and we can then track transactions. Our loyalty program actively communicates with customers via e-mail or text, inviting them to return, sending them personalized offers and rewards. So when our clients ask us if it really works, we can share real results!
It's the magic elixir of success for any restaurant - the ability to take a first-time customer and turn them into a regular. You've got to deliver on the service, the food, the value and the experience overall. Plus, you have to change a customer's habits. So we wondered, would loyalty turn new customers into regulars that spend more when the dine? Would our customers save enough on marketing to cover the costs of running a loyalty program?
To find out, we ran multiple studies across a variety of restaurants covering four main aspects of loyalty- Turning New Customers Into Regulars, Increasing Customer Frequency, & Increasing Ticket Averages.
The remarkable results of our study,which you can read here, helped us create a model of the impact a loyalty program can have on your business. The image below illustrates that with a 1,500 member rewards program (adding 100 per month) can lead to a net ROI of $6,632 per year after factoring in the cost of food and the loyalty program itself.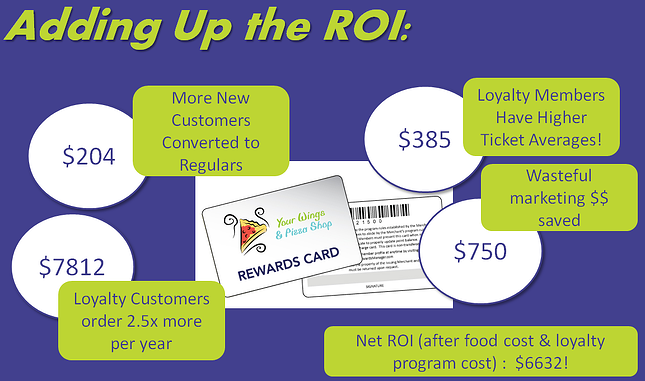 It's common sense - getting to know your customers, nurturing them, communicating with them, keeping in touch - it's bound to pay off, right? Turns out we have solid evidence that it does pay off, with increased conversions, increased frequency and increased ticket averages.
Common Loyalty Misconceptions
When it comes to loyalty and marketing technology, there are numerous tools available, but it's important to weigh your options carefully and look for technology designed for long-term growth. While an email-only program works great for mass marketing and punch cards might excite customers, loyalty programs are much more effective at driving business to your restaurant. Imagine the value of a program that sends personalized messages with relevant coupons to customers based on their spending habits. Instead of waiting for customers to redeem punch cards or spending countless hours managing mass emails with a blanket discount, look to a system that automates communication and discounts in way that makes sense for your business.
Worried about offering coupons to regular customers? Loyalty programs actually offer you more control over the discounts you offer, by reducing the need for blanket discounts across all channels. With a secure system for sending discounts that can only be redeemed once per customer, you'll have more control over what you discount and when. Suprisingly, loyalty customers often retain higher ticket averages than non-loyalty customers, even with discounts. Remember to think beyond standard coupons with loyalty programs, because branded promotional items like t-shirts or hats are often powerful motivators for regular customers.
Loyalty Program Tips for Success
With just a bit of planning, restaurants can easily turn a loyalty program into the main source of marketing to keep customers coming back. Make your promotional strategy a key component in your loyalty program planning. Communicate benefits for loyalty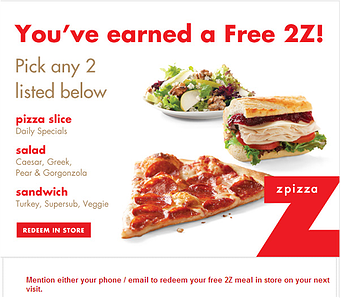 program members clearly with in-store promotional items and make it easy for customers to join in-store, on your website, when they place online orders, or even via text-message.
Once a customer joins your program, reach out to them! 66% of consumers wish to receive emails with offers of value relating to their restaurant rewards program, so set up an automated system for rewarding customers every 4-7 visits or for special holidays and events. When choosing your rewards, consider coupons carefully. Options for your program might include offering dollar off coupons, giving away free low value items, requiring a purchase to receive a reward, or sending a reward once a customer has spent a certain amount.
An easy way to get your loyalty program of the starting blocks is to take advantage of social media and go viral! Look for loyalty programs that connect with social media, allowing you to post transactional data and reward redemptions on a customer's Facebook page to share with their friends and family. Consider offering bonus points for members who refer friends or get involved with community organizations who promote your program.
Hundreds of Granbury Solutions customers have found loyalty programs to be an effective way to grow their restaurants and and with today's technology it's easier than ever to get started. To learn more about successful loyalty practices, download our free guide. Interested in a fully automated e-mail & text based loyalty rewards solution? Learn more about GRS SalesBuilder!