There are about 75,000 pizzerias in the U.S., making it one of the most competitive food industries in the country. Independent operators are being pushed out of business by rapidly expanding pizza chains that are wooing customers away with online or mobile ordering, third-party delivery opportunities, and big marketing budgets. According to a report by restaurant industry consultant Aaron Allen & Associates, "independent pizzerias in America have lost 21 percent market share in terms of sales and 19 percent market share in terms of units to chains."
Effective pizza restaurant marketing can mean the difference between expanding and going out of business. Fortunately, you can create a marketing campaign using the tools and resources you already own.


Take Advantage of Your POS to Generate a Mailing List
Your POS gives you the tools you need to identify top customers, gather contact info and keep track of their favorite items. This data can be used to distribute marketing materials with information about your pizzeria, new menu offerings and specials. For a more targeted approach, the mailing list can be segmented into different customer categories like high volume, loyalty, and online ordering. That way the information and discounts you send out are more likely to seem relevant to your customers, and could result in a higher redemption rate.


Leverage Your Loyalty Program
A loyalty program is one of the easiest ways to gather customer data. When a customer joins a loyalty program, their purchases can be tracked through their loyalty profile, which allows you to review customers' preferences and buying habits. This data forms the foundation for customized offers based on visit frequency and previous orders.
It should be easy to enroll in a loyalty program, so create a digital signup tool that customers can use. You can also add a downloadable loyalty app to make it easy for customers to participate in the program. Just make sure the app's interface is simple and doesn't require too many clicks or swipes. No one's got the patience to press 20 buttons just to check their account.
Get Social
Everyone else is online. Your pizzeria should be too. Twitter, Facebook and Instagram are great, free tools that can be used for marketing your restaurant. Upload photos of your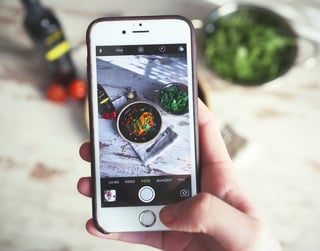 most delicious looking menu items, clear shots of your smiling staff, and pictures of the inside of your restaurant on an especially busy night to encourage likes and views. Keep it lively — Taco Bell's and Arbys' social media accounts are widely regarded as some of the best among fast food brands, so take a look at theirs for reference. Taco Bell's Twitter feed is followed by more than a million people eager to see what catchy one-liner they come up with next, while Arbys targets the pop culture fanatics by making nerdy references out of their packaging.
Check Your Local and Online Listing
Marketing campaigns aren't going to work if people can't find your restaurant. Go online and make sure your address, contact information and open hours are listed correctly on your website and various business listing pages. This includes search engines like Google and Bing, who automatically show some business information right in the search results. If you want to go one step further, upload the most recent menu and make sure it reflects your current pricing. You can also manage your Google listing, which helps you control what information potential customers are seeing and allows you to update details quickly.


A marketing campaign for your pizza restaurant doesn't need to be expensive in order to be successful. Chances are you already own most of the tools you need to get started. Using the customer data collected by your restaurant's POS system and having an active and engaging presence on social media are simple ways to raise awareness about your business and keep customers wanting more.