With credit card processing costs on the rise, savvy restaurant owners are looking for ways to help their bottom line. In some states* credit card surcharges are an increasingly acceptable way to pass these costs on to the customer. Others may find a cash discount is more appealing.
With Thrive 8.1, you can configure an offer to be a "Surcharge" type and add a % or $ amount to your order automatically — based on a variety of criteria such as order type, time of day, minimum purchase, etc. You can also configure a surcharge or discount to apply based on the tender type (credit or cash) selected.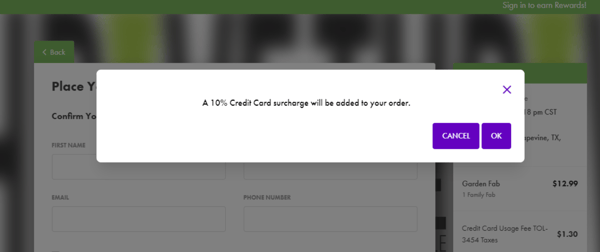 Surcharges can be used for a variety of purposes, perhaps to help supplement employee healthcare costs, as an extra delivery / set-up charge for large orders, or to support a local charitable initiative.
The surcharge / tender-based offer features are available in Version 8.1 and can apply both in the POS and online.
Learn more here >
If you are interested in upgrading to Thrive v8.1, call 817-750-3947 or use your online support portal to request an upgrade!
*Some states prohibit credit card surcharges, and they are limited in amount. Here's a good article that explains the details: https://www.thebalance.com/credit-card-surcharges-315423
Disclaimer: Granbury Solutions does not provide legal, tax or accounting advice; the information provided is intended to be general in nature; and readers are strongly encouraged to consult their own professional tax, accounting and legal advisors on individual business matters. Information contained in this message should not be construed as tax advice, a promise of potential savings, or reduced tax liability. Federal, state, and local laws, rules, regulations are subject to change. For more information about your specific business situation, you should consult professional tax, accounting and legal advisors.